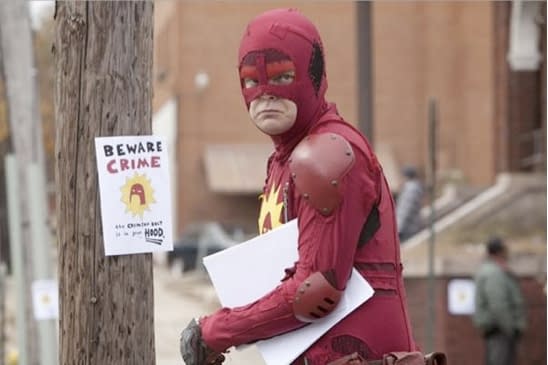 Finally, a look at Ellen Page in her girl wonder costume in the first clip from James Gunn's Super. Page's character is (while in costume, at least) called Bolty, and she's the sidekick to Rainn Wilson's The Crimson Bolt. She also appears to be slightly broken-minded.
Judging from this scene, the film runs headlong into the moral confusion I've always associated with superhero stories – or, for that matter, anything about hero knights and the like. What's so heroic? Who is setting the agenda? Whose morals are these anyway?
There are swears, should you need to be warned.
I've enjoyed a lot of these "real world" superhero stories, particularly Special. Chances are, some of Super will seem a tad familiar, and not through any fault, just because of how well charted this territory has been of late.
Nonetheless, I don't think this subgenre is going to go away either quietly or any time soon.
Super screened at TIFF and was very well received. Clip courtesy of Coming Soon.
Enjoyed this article? Share it!