As the New York Toy Fair continues, the threat of spoiler-by-tie-in builds and builds. Here are images of Thor 2, Star Trek Into Darkness and Pacific Rim merch, some of which seems to suggest new info – if sometimes very slight – about the films in question.
Here are Star Trek Into Darkness Kre-Os from the official Star Trek page. The most intriguing details come from the kit descriptions, which I'll put below the pics.
Kids and fans alike will be excited to join KREON figures of CAPTAIN KIRK, SPOCK, and DR. MCCOY on the bridge to defend against  two villain KREON figures.
So note that there are two movie-derived villains in the above image.
Based on a ship featured in the film, the KRE-O KLINGON BIRD-OF-PREY building set…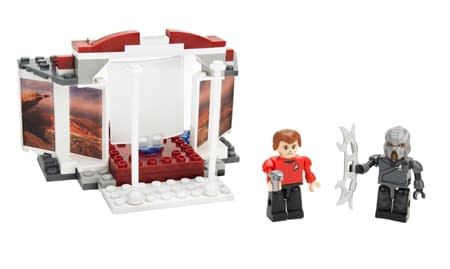 Based on the iconic TRANSPORTER from the STAR TREK INTO DARKNESS movie, the KRE-O STAR TREK TRANSPORTER TROUBLE building set features…  two KREON figures with weapons (SCOTTY and a KLINGON). The KRE-O STAR TREK SPACE DIVE building set includes 36 pieces and two KREON figures, CAPTAIN KIRK and a villain with press-fire projectile weapons and accessories!
Based on iconic STAR TREK characters from the upcoming STAR TREK INTO DARKNESS movie… six different characters available in the spring of 2013 including: GORN, CAPTAIN NERO, KEENSER, GRASIA, KINGON and LIEUTENANT SPRONG. Twelve additional KREON figures will be released in fall 2013, including: CAPTAIN KIRK, SPOCK, BORG DRONE and GENERAL CHANG.
Hang on – are they suggesting that there's going to a Borg Drone and Gorn and Captain Nero and so on and so on in Star Trek Into Darkness? That's a slip up,  I reckon.
…though IMDB did list Kasia Kowalczyk as Grasia Alien for the longest time.
Well done Paramount and Bad Robot for ensuring that any villain names are cut out. There's probably still weeks of hype mileage in keeping Cumberbatch's role under wraps. And yes, I know I'm complicit in that.
Here are some Kryptonians as per the Man of Steel toy line, all courtesy of MTV. It's a similar story with Thor: The Dark World. These character figures come from the Toy Fair floor via Dave Gonzalez. For Pacific Rim, the toys are at an altogether smaller scale. Here are giant robots rendered at the same size, give or take, of a Norse Thunder God.
Idle Hands even got some slightly blurry snaps of some Pacific Rim Kaiju from the Toy Show.
IMAGES REMOVED AT REQUEST OF NECA
Ugly fuggers. And I mean that in the nicest possible sense.
The Toy Fair goes on, and I'll keep an eye out for anything else of interest.
Enjoyed this article? Share it!