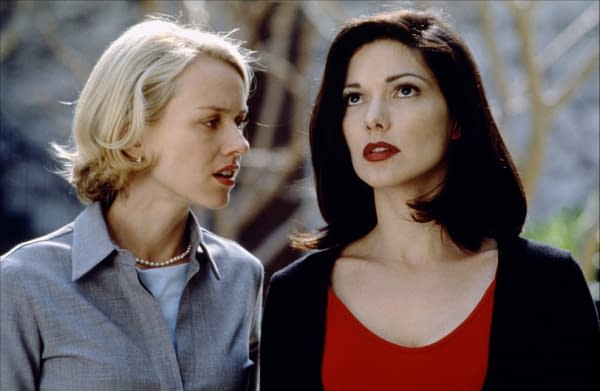 BBC Culture has put together a list of the best films of the 21st century. Starting the list from the year 2000, the notion is to dispel the myth that no great films have been made in the last sixteen years. If nothing else, the films listed can lead to an interesting discussion.
The list is topped by David Lynch's Mulholand Drive, followed by In The Mood for Love and There Will Be Blood. Personally, I'd consider Mulholand Drive the least of those three, but I can understand why someone would rate it so high.
Other highlights include Spirited Away, A Separation, Zodiac and Mad Max: Fury Road. The Dark Knight, WALL-E and Inherent Vice made the list as well. And thought there are plenty of independent and international films listed, there are a number of crowd-pleasers, suggesting a better balance of blockbusters and so-called "serious" films than one might initially assume.
Of course, the list is still highly subjective and with the new century as its cutoff date, none of these films have yet enjoyed a quarter century of consideration. In fact, I find the inclusion of films less than year old to be somewhat dubious. But the message is loud and clear: while the days of The Godfather and Vertigo seem behind us, there are still plenty of great films in the "new" century to be found.
The list of the first fifty films follows:
50. The Assassin (Hou Hsiao-hsien, 2015)
49. Goodbye to Language (Jean-Luc Godard, 2014)
48. Brooklyn (John Crowley, 2015)
47. Leviathan (Andrey Zvyagintsev, 2014)
46. Certified Copy (Abbas Kiarostami, 2010)
45. Blue Is the Warmest Color (Abdellatif Kechiche, 2013)
44. 12 Years a Slave (Steve McQueen, 2013)
43. Melancholia (Lars von Trier, 2011)
42. Amour (Michael Haneke, 2012)
41. Inside Out (Pete Docter, 2015)
40. Brokeback Mountain (Ang Lee, 2005)
39. The New World (Terrence Malick, 2005)
38. City of God (Fernando Meirelles and Kátia Lund, 2002)
37. Uncle Boonmee Who Can Recall His Past Lives (Apichatpong Weerasethakul, 2010)
36. Timbuktu (Abderrahmane Sissako, 2014)
35. Crouching Tiger, Hidden Dragon (Ang Lee, 2000)
34. Son of Saul (László Nemes, 2015)
33. The Dark Knight (Christopher Nolan, 2008)
32. The Lives of Others (Florian Henckel von Donnersmarck, 2006)
31. Margaret (Kenneth Lonergan, 2011)
30. Oldboy (Park Chan-wook, 2003)
29. WALL-E (Andrew Stanton, 2008)
28. Talk to Her (Pedro Almodóvar, 2002)
27. The Social Network (David Fincher, 2010)
26. 25th Hour (Spike Lee, 2002)
25. ​Memento (Christopher Nolan, 2000)
24. The Master (Paul Thomas Anderson, 2012)
23. Caché (Michael Haneke, 2005)
22. Lost in Translation (Sofia Coppola, 2003)
21. The Grand Budapest Hotel (Wes Anderson, 2014)
20. Synecdoche, New York (Charlie Kaufman, 2008)
19. Mad Max: Fury Road (George Miller, 2015)
18. The White Ribbon (Michael Haneke, 2009)
17. Pan's Labyrinth (Guillermo Del Toro, 2006)
16. Holy Motors (Leos Carax, 2012)
15. 4 Months, 3 Weeks and 2 Days (Cristian Mungiu, 2007)
14. The Act of Killing (Joshua Oppenheimer, 2012)
13. Children of Men (Alfonso Cuarón, 2006)
12. Zodiac (David Fincher, 2007)
11. Inside Llewyn Davis (Joel and Ethan Coen, 2013)
10. No Country for Old Men (Joel and Ethan Coen, 2007)
9. A Separation (Asghar Farhadi, 2011)
8. Yi Yi: A One and a Two (Edward Yang, 2000)
7. The Tree of Life (Terrence Malick, 2011)
6. Eternal Sunshine of the Spotless Mind (Michel Gondry, 2004)
5. Boyhood (Richard Linklater, 2014)
4. Spirited Away (Hayao Miyazaki, 2001)
3. There Will Be Blood (Paul Thomas Anderson, 2007)
2. In the Mood for Love (Wong Kar-wai, 2000)
1. Mulholland Drive (David Lynch, 2001)
Enjoyed this article? Share it!