Natalie Portman on Lucy in the Sky criticism
Lucy in the Sky actress Natalie Portman opened up with the Los Angeles Times about the film's negative reaction following the world premiere in Toronto.
What is surprising is that Portman isn't surprised by the universal panning.
The movie isn't, as she calls it, "easy." It's about a complicated woman who is neither hero nor villain — the kind of character who, Portman understands, can make audiences uneasy because "they don't know how they're supposed to feel about her."
The film served as the feature film directorial debut for Noah Hawley. Hawley created both Legion and the award-winning Fargo mini-series for FX. This background combined with Natalie Portman leading a cast that included but Jon Hamm and Zazie Beetz led to an anticipated premiere in Toronto. What followed was a lot of negative buzz on a late Wednesday night. Most of the highly buzzed films held their Toronto premieres from Friday evening through Monday night. The Wednesday evening slot certainly did no favors with so many critics having left town already.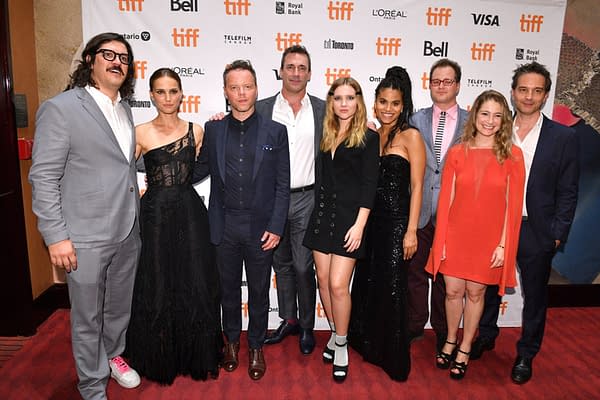 As with many films that get negative reviews, there is bound to be an audience. It's hard to say what's going to happen for Lucy in the Sky. Natalie Portman's performance but because of the film's negative reviews, her shot at awards season is threatened.
Coming out of the world premiere on a Wednesday night in mid-September, one of the comparisons frequently cited was Fatal Attraction. According to the article, there were concerns by Hawley that the film would follow along those lines. It's enough that Mad Men star Jon Hamm commented on how men and women are compared when they lose their tempers: "If a guy loses his temper, he's seen as being strong. And if a woman loses her temper, she's being emotional or crazy. It's not fair, and it's not right."
Portman also spoke about coming back for Thor: Love and Thunder, working with Time's Up, and Annihilation being dumped internationally on Netflix.
Fox Searchlight Pictures opens Lucy in the Sky in theaters on October 4, 2019.