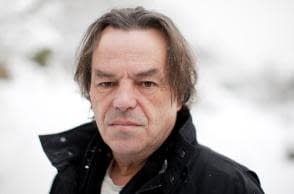 Shooting will start next week on Byzantium, Interview With The Vampire director Neil Jordan's return to the bloodsucker genre. The Irish Film Board have today announced that they'll be providing the film with some funds, charging it up to shoot on location around Dublin and Wicklow.
I've reported on the film before:
Jane Eyre and Tamara Drewe screenwriter Moira Buffini has adapted her own stage play Byzantium into a movie script, and Neil Jordan has come on board to direct it.

Byzantium has been officially announced in Cannes… along with the first taste of casting information. The two lead roles will be filled by Saoirse Ronan and Gemma Arterton.
At that time, production was expected to start in October. It didn't. Roads are bumpy sometimes.
When the film does start shooting next week, the chief male roles are to be filled by Caleb Landry Jones, Sam Riley, Bradley Jones and Daniel Mays. It's a rare case where its the girls who are the biggest stars.
Here's the official blurb for the film:
On the run for murder, two young "sisters" arrive penniless at an English seaside town. Clara is a fiercely modern woman who has her eyes on the future and no time for the past. Teenager Eleanor is shy and innocent. Yet they both hide the same secrets: they are really mother and daughter, and they are both… vampires!

Eleanor is exhausted by 200 years on the run and desperate to settle down. But little does she know that her mother has been protecting her all of the years from their own kind, "The Brotherhood". To escape them, they must either blend in or continue running away. But just as they think they may have escaped, their past rapidly catches up with them.
Expect the actual movie to be considerably less goofy sounding.
Enjoyed this article? Share it!