Everyone's favorite monkey pal, Abu, is brought to delicious, edible life in this pancake!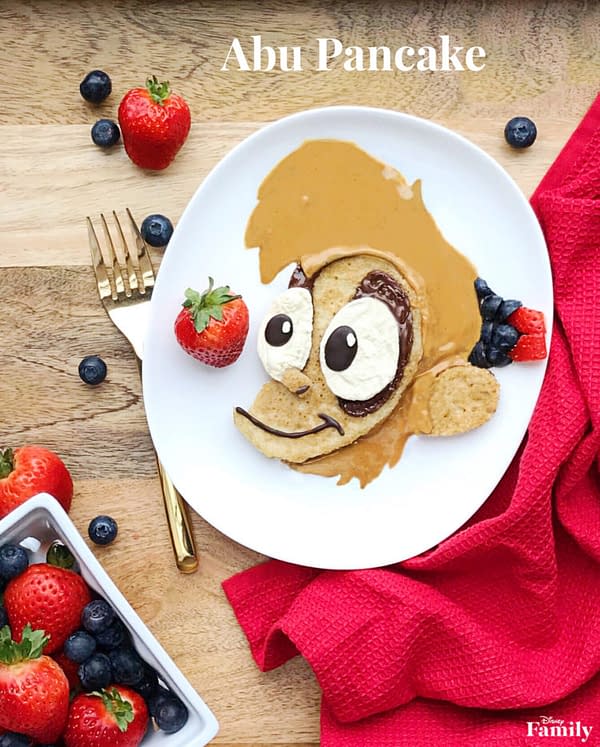 This looks pretty easy to make, so what are you waiting for? You ain't never had a pancake like this!
Ingredients
PANCAKES:
3 large eggs
1 tablespoon maple syrup or honey
2 teaspoons vanilla extract
1/2-3/4 cup unsweetened almond milk (use more for thinner pancakes)
2 tablespoons butter or coconut oil, melted
2 cups blanched almond flour
1/2 teaspoon baking soda
1/4 teaspoon salt
Butter or oil, for cooking
Kitchen scissors
Chocolate hazelnut spread
1/4 cup dark chocolate chips
1/4 tablespoon coconut oil
Piping bags and small, round tip (or small zip-top bags)
Creamy peanut butter (or other nut butter)
3 blueberries
1 medium strawberry
WHIPPED CREAM:
1/2 cup heavy whipping cream, cold
1/2 tablespoon vanilla extract
Directions
In a large mixing bowl, whisk together the eggs, syrup or honey, vanilla, milk, and melted oil or butter.

Add the flour, baking soda, and salt, and whisk until fully combined.

Heat a large skillet over medium heat. Add a little butter or oil, and then scoop about 3-4 tablespoons of batter into the pan to form an oval (you can move the batter around with the back of your spoon). Cook each side for about 1-2 minutes (or until the edges begin to brown, and bubbles form and burst in the center). You will need 2 pancakes to make Abu.

Once the pancakes are cool enough to handle, use kitchen scissors to cut a little triangle-shaped area out of the bottom left side to form Abu's face. Use the second pancake to cut a tiny oval for his nose and a larger oval for his right ear.

Add chocolate hazelnut spread with the back of a spoon to form 2 ovals next to each other on top of the pancake (the right oval should be slightly larger than the left).

Next, add the eyes with whipped cream. If you would like to make your own whipped cream, transfer your mixing bowl and whisk attachment to the freezer to chill for a few minutes, then add the cold whipped cream and vanilla, and mix on high until light and fluffy (about 3-4 minutes). Transfer your homemade (or premade) whipped cream to the piping bag (or small zip-top bag with a little corner cut off), and pipe two ovals for the eyes just off to the left side of the spread. Place the nose and ear pancake pieces on your plate.

Melt the chocolate chips and coconut oil together in the microwave, in 30-second intervals at 50% power, while stirring in between each set. Microwave until the chocolate is smooth and melted.

Allow the chocolate to come to about room temperature, and then transfer to the piping bag or zip-top bag.

Pipe 2 small ovals for the eyes, 2 lines for the nostrils on the nose, and add a smile following the bottom shape of the pancake. You can use a little of the leftover whipped cream to add highlights to each eye by piping a tiny circle on top of the chocolate.

Add peanut butter to a piping or zip-top bag. Create the fur around Abu's face.

To make Abu's hat, cut 2-3 blueberries in half and stack the pieces. Then cut the strawberry into 2 triangles and place the pieces with the points facing down toward the blueberries.
Enjoyed this article? Share it!