Man, I love these weird holidays that have zero impact on our daily lives. But they're fun to celebrate, and when they're celebrating food, then why not?! Disney Springs is celebrating National Hot Chocolate Day with The Ganachery, and oh my word, they look amazing!
What's the best way to celebrate #NationalHotChocolateDay? With a warm cup of house-made hot ganache complete with a shot of Bailey's from The Ganachery! 🍫 pic.twitter.com/K5uUp1lmkb

— Disney Springs (@DisneySprings) January 31, 2018
Want to celebrate at home? This delicious Baymax hot chocolate will certainly do the trick!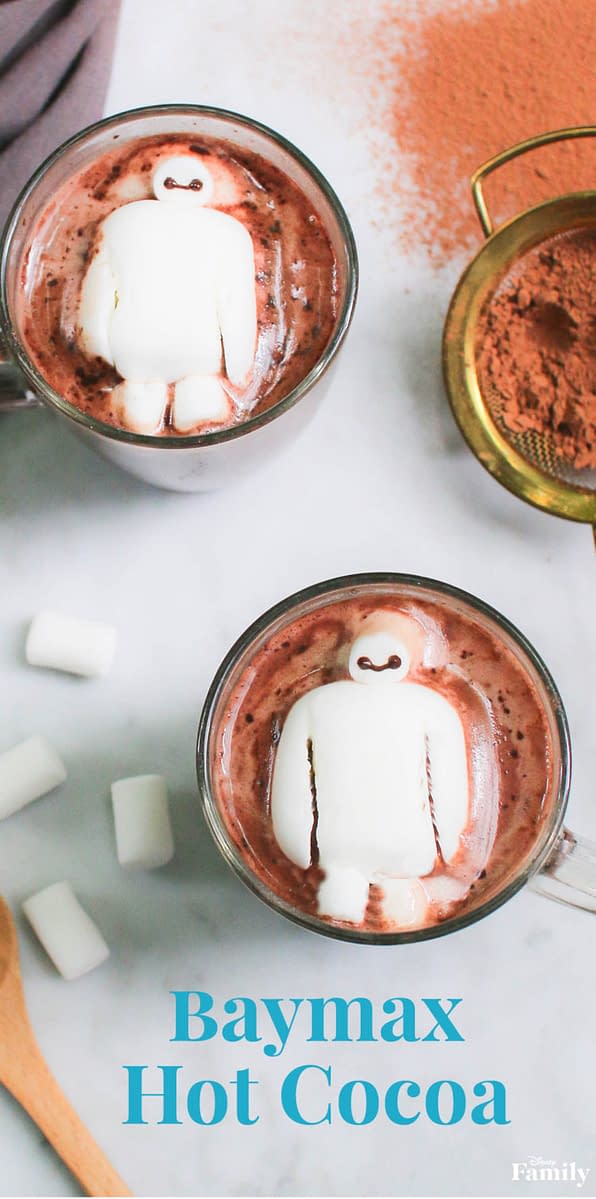 Ingredients
2 big marshmallows
Scissors
4 mini marshmallows
Chocolate, melted
Toothpicks
4 tbsp unsweetened cocoa powder
4 tbsp sugar
Pinch of salt
2 cups milk
Helpful Tip
All cutting should be done by an adult.
Directions
Using a pair of scissors, cut out Baymax's arms from a large marshmallow. Cut one mini marshmallow in half for Baymax's legs and stick them onto the bottom of the large marshmallow. Take a mini marshmallow and cut off just a bit of the bottom so it can stick onto the large marshmallow.

Dip a toothpick into the melted chocolate and add Baymax's features. Set aside.

Whisk together the cocoa, sugar, salt, and about 2 tablespoons milk in a small saucepan over medium-low heat until cocoa and sugar are dissolved. Whisk in the rest of the milk and heat it over medium heat, whisking occasionally, until it's hot.

Place Baymax on top of the hot cocoa and serve immediately.
Enjoyed this article? Share it!