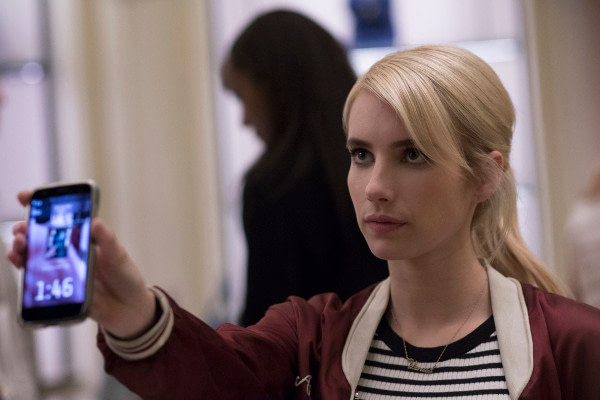 Jonathan Rich writes for BleedingCool.
Movies sometimes try to reflect the times in which they are made and the new thriller Nerve does that adequately by taking the already dated trope of social media addiction and subtly having something to say about a generation addicted to the sounds and images on the screens of their ever-present smart phones.
Clocking in at ninety-six minutes, the story of a popular online game which touts itself as "truth or dare, without the truth" offers some genuine suspense and surprises for a group of high school seniors trying to become "insta-famous" in a world already populated by online celebrities hailed for their social media presence without substance, and it manages to get its message across without ever being too heavy handed.
The hero of the story is Vee (American Horror Story's Emma Roberts), a shy yearbook photographer who pines for the football jock and is viewed by many as simply the sidekick to the more outgoing and popular cheerleader Sydney (The Leftover's Emily Meade); who gained notoriety for posting a sideline routine via the online game NERVE where she flashed her bare buttocks to the fans in the stands.
In order to be more outgoing, Vee reluctantly decides to try her luck at the same online game. Broadcast live on the Internet, participants engage in a series of increasingly more difficult public challenges and are rewarded with online adulation and money deposited into their bank accounts.
Though Vee's participation is discouraged by her platonic pal Tommy (Parenthood's Miles Heizer), she is immediately drawn into the fray when dared to kiss a stranger for fifteen seconds. The recipient of her facetime is the enigmatic Ian (Dave Franco, 21 Jumpstreet). NERVE viewers like these players as a dynamic duo, and both their adventures and the stakes involved escalate right along with their mutual attraction during a turbulent night in New York City.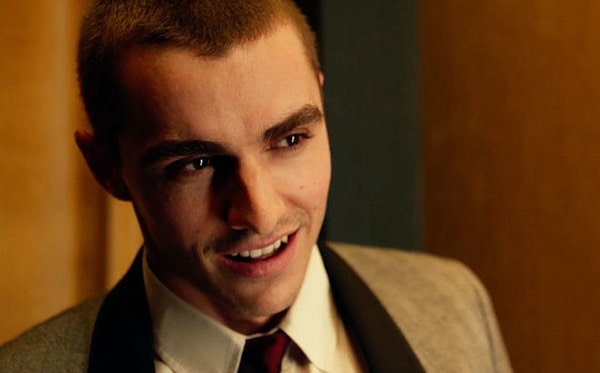 Sometimes the results are a little telegraphed. But at the same time the story, adapted from Jeanne Ryan's debut 2012 YA novel, manages to be as engaging as similar heroine focused efforts as The Hunger Games and The Divergent Series even though this appears to be a one-and-done effort.
What I liked most about Nerve was how it accurately captured the growing pains adolescent friendships often entail without playing too much into broad stereotypes. Vee is cognizant of her role as the pretty cheerleader's understudy and they have a genuine moment when she and Sydney honestly address the power structure of their relationship. Likewise, Tommy understands his role of being stuck in the dreaded "friendzone" and chooses to be a supportive subservient player in the adventure rather than try to make his play for the girl he obviously likes more than a friend.
That attention to the supporting cast provides the needed drama and gravitas to the action sequences Vee and Ian find themselves in and keeps the film from just being a thrill ride. Roberts and Franco make the most of their flirtatious time on the town together, but this also allows the film to subtly address the perils of social relationships, social media and the raunchiness of reality TV without ever getting too preachy. Ultimately, Nerve is very much like the extreme social media game it depicts: it can be a lot of fun if that is all you are looking for, it can tell you a lot about yourself if you choose to be receptive to what it has to say, or it could just be a momentary and fun diversion if that is all you need it to be.
Hopefully Nerve will be content to have made a status update on a slate of summer blockbusters and be content with that. I suspect if it does well at the box office, there could be more stories to tell with other characters in the same setting. I hope that does not happen, as by the time any sequels come to fruition the tech-obsessed world we live in will have only further mutated and the fresh ideas on display here will look as dated as a MySpace profile.
Nerve
2016
Directed by Henry Joost and Ariel Schulman
Starring: Emma Roberts, Dave Franco, Emily Meade and Miles Heizer
Running time: 96 minutes
MPAA rating: PG-13 for mild violence and suggestive material
BC Judgment : B; solid effort navigating social issues and social media, but may be ultimately forgettable afterward.
Jonathan Rich is a freelance journalist, high school educator, and self-professed comic book nerd working in the Blue Ridge Mountains of western North Carolina. He writes about entertainment and pop culture for various print and web publications, including bleedingcool.com.