Another day and another new image from The Hunger Games: Catching Fire. But what's rather interesting about the two images released these past two days is the way in which they reflect different aspects of the film.
The image released yesterday featured the heroine of the The Hunger Games on a stage in a dress, a particular kind of dress I believe, and today's image, which was posted at Yahoo Movies, sees her on a very different kind of stage and making a political statement.
The hand gesture that we see here is incredibly important in the world of The Hunger Games and was something that was used to great effect in the first film. And it will undoubtedly be something that echoes through Catching Fire and the two Mockingjay films.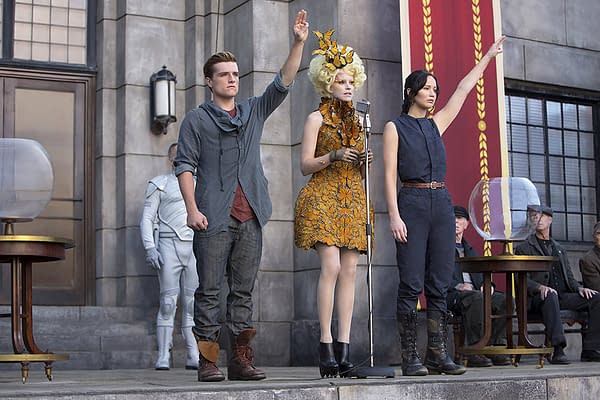 The Hunger Games: Catching Fire will be released in UK and U.S. cinemas on the 22nd of November.
Enjoyed this article? Share it!