The Canyons is set to be released on VOD and in some American cinemas on the 2nd of August before expanding a little wider one week later. Between now and then, though, it will need to first wade through a tar pit of bad publicity from a people who haven't even see the film.
With national newspapers publishing pieces entitled The Canyons: 2013's Most Pointless Movie? based on just the trailers, and The New York Times running a very lengthy and somewhat disputed piece on the difficulties that director Paul Schrader encountered in working with star Lindsay Lohan, the film has hardly been treated to an easy ride so far. Lohan's recent legal issues and time spent in rehab have also led to more coverage for the film, but little to none of it positive.
Add to this that the film's male lead is a porn star, James Deen, and you have a recipe for a lot of manufactured controversy and problematic coverage.
A strong counter point to this circus is the decision by Film Comment to devote the cover of their latest issue to the film and to feature a piece by the film's screenwriter Bret Easton Ellis on his guilty pleasures. There's another pieceby Paul Schrader on working with Lohan, and also reasonably substantial interview with Schrader.
It's an interesting choice for the magazine and one that might cause many to think twice about this film that they've already written off, sight unseen.
I certainly haven't written The Canyons off yet. I'm actually still pretty optimistic about it, as a fan of both Schrader and Easton Ellis, and the choice of Film Comment to put the film on the cover and to devote quite a few pages to it has given me a little more hope too.
Also included in the issue are a number of images from the film, which you find below. Some are maybe NSFW, and we've had to censor a couple, so keep that in mind before you start changing your office desktop's wallpaper.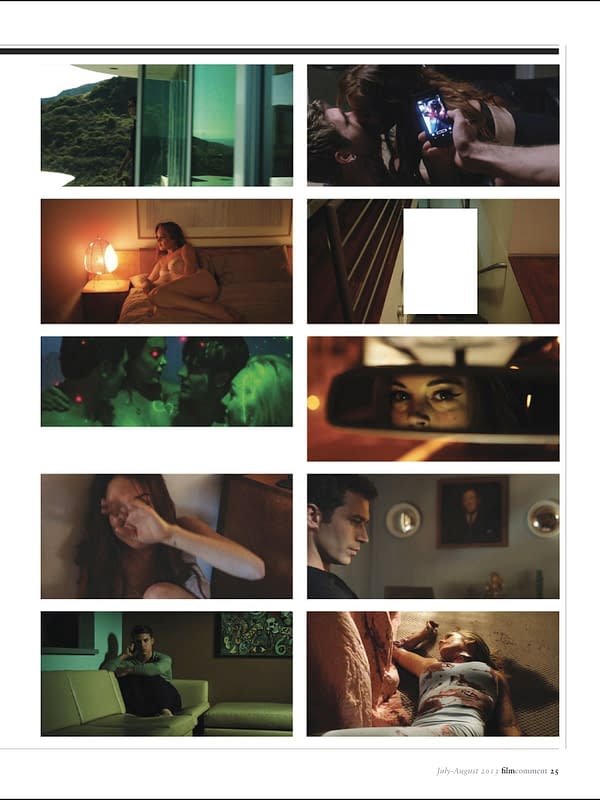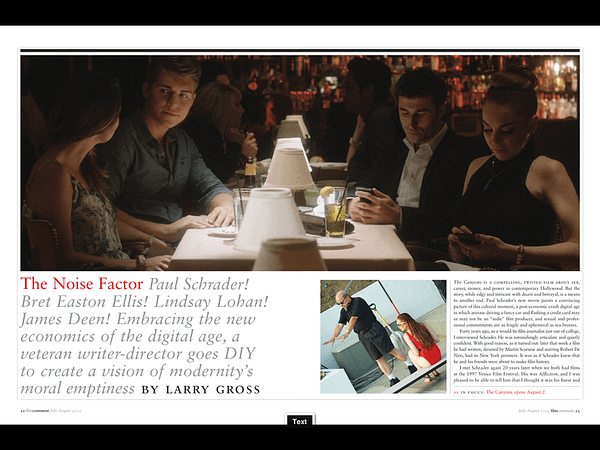 None of the articles in Film Comment are currently online but I can definitely recommend finding a shop with the latest issue or subscribing digitally.
Enjoyed this article? Share it!