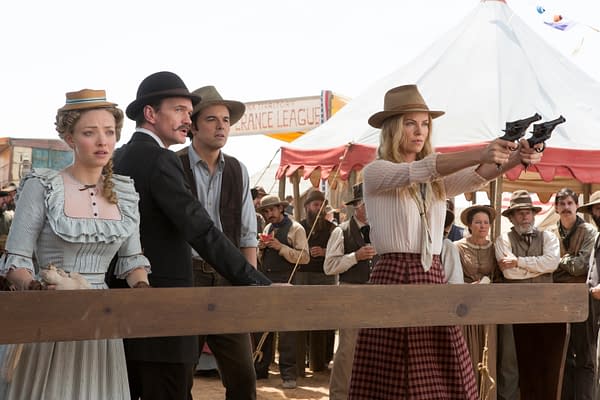 That's a (super discretely watermarked) new image from Seth MacFarlane's next, the comedy western A Million Ways to Die in the West.
The official plot blurb will make sense of who is who and what they're doing, I think:
After a cowardly sheep farmer [Seth MacFarlane] backs out of a gunfight, his fickle girlfriend [Amanda Seyfried] leaves him for another man [Neil Patrick Harris].  When a mysterious and beautiful woman [Charlize Theron] rides into town, she helps him find his courage and they begin to fall in love.  But when her husband, a notorious outlaw, arrives seeking revenge, the farmer must put his newfound courage to the test.
It's not the most obvious project for MacFarlane to take on, but that's only encouraging. The further out of his comfort zone he is, the more optimistic I can be about what he's working on.
And Neil Patrick Harris as the owner of a frontier town's "moustachery"? That's not a bad thing. That's already something I want to watch.
Enjoyed this article? Share it!