As tweeted by Olivia Solon this morning.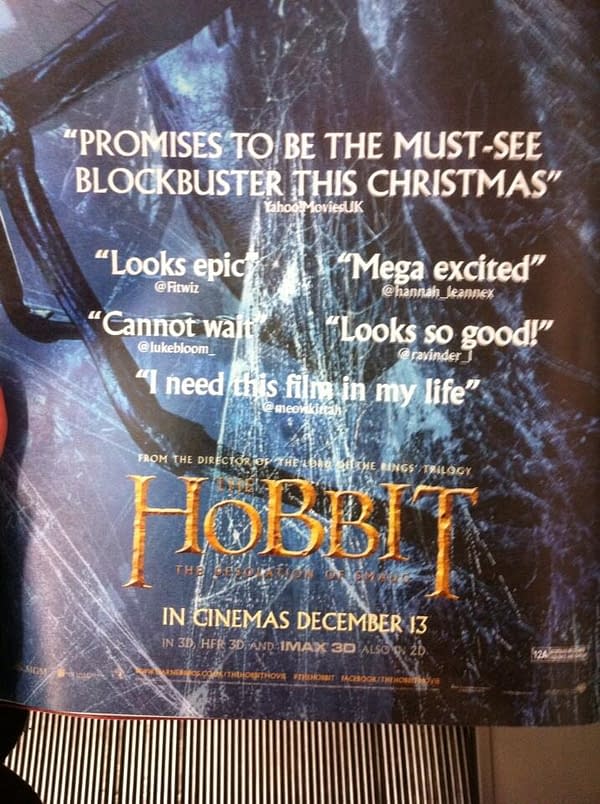 This is undoubtedly preferable to reviews by people who haven't seen the film but are pretending they have, and I know for a fact that those still get published in print and broadcast on the TV, here and there.
What does one expect from a poster quote, though? I think you'd have to be foolish to put any real stock in them, even if they were clipped from the work of the world's finest critics. There's no real insight possible in something so abrupt. I never looked to Roger Ebert for a thumbs up or a thumbs down, but for more detailed discourse.
Having said that, I know that a barrage of five-star positivity as you're walking along an underground platform can have more of an effect that one might consciously realise. These things are undoubtedly pushing and pulling on our expectations and anticipations.
This particular Hobbit poster seems to be embracing the common man's enthusiasm too much for most tastes and this morning's social media commentary seems to suggest a preference for the way it used to be done.
I assumed I'd also prefer the no-doubt carefully selected and tailored quotes on posters to come from people who have actually seen the film, but really, on closer consideration, I don't think it really matters at all. No matter what goes on the sheet has been curated by the marketeers and even if a film has been SLATED by critics, the distributor is going to find somebody to cite in the most positive way possible, even somebody pretty high up the perceived pecking order.
At least these Hobbit posters convey a sense of excitement from the actual paying audience and acknowledge the value in that. The message on these posters has only ever been "written" by marketing teams, but I at least like that a good part of the message here favours the audience's interest over a top-down critical dictate.
Enjoyed this article? Share it!