By Dimitrios Haritos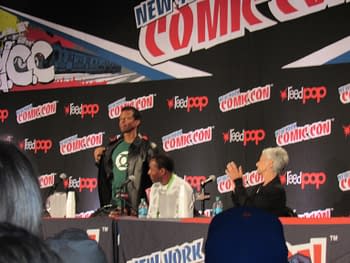 The Justice League reunion panel at New York Comic Con was moderated by Sean Lynch and included panelists Kevin Conroy, George Newbern, Susan Eisenberg, Phil LaMarr, Carl Lumbly, Maria Canals-Barrera and Andrea Romano. The panel began with Romano explaining the importance in casting voices that are so iconic that could stand individually but sound cohesive as a group. They then went on to discuss working with Dwayne McDuffie, Romano said everyone loved working with him and that he was the master of adapting comics to the screen; working it so even things that were thought bubbles and working it into the script.
When LaMarr took the part of Green Lantern on Justice League, Bruce Timm told him that he was the main Green Lantern. There was no Hal Jordan and John got his Abin Sur's ring instead. LaMarr worried about fan backlash, but he said people were understanding of it and that Timm wasn't interested in making a cartoon about seven white guys saving the world.
Newbern joked that all they ever did with Superman was electrocute him constantly.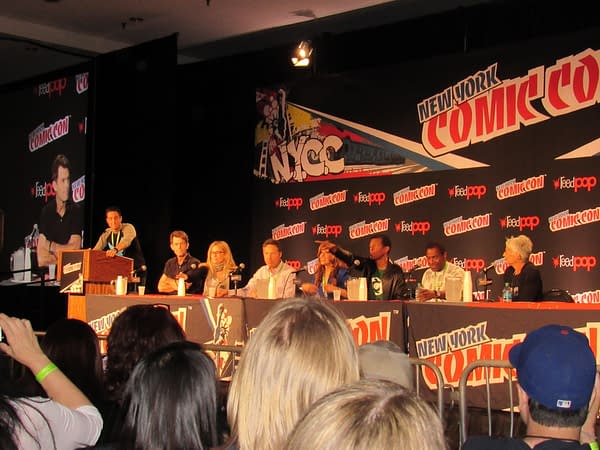 Following clips from several episodes, the voice actors did live readings of scenes from the show. They started with "Secret Origins, Part 2" where the team comes together for the first time. Lynch filled in for Michael Rosenbaum as the Flash. Next, they did the opening scene between Batman and Wonder Woman from "This Little Piggy." Afterwards, Conroy sang "Am I Blue," also from that episode. Lastly, they performed the last scene from the last episode of Justice League Unlimited.
After a brief Q&A, LaMarr led the crowd in reciting the Green Lantern.
Dimitrios Haritos is a contributor for Bleeding Cool as well as a Cosplayer who loves all things comics. You can find him on twitter @ectoman_913
Enjoyed this article? Share it!