By Rich Epstein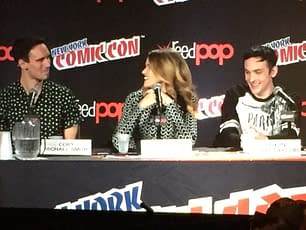 The Gotham panel at New York Comic Con began with a sizzle reel covering the first three episodes of Season Two, followed by a scene from tomorrow night's episode.  Michael Chiklis, as no-nonsense Police Captain Nathaniel Barnes, shows up at Gotham PD and things are very different.  He fires seven cops who are especially corrupt, and puts everyone else on notice.
After the clip, executive producer John Stephens, and actors Ben McKenzie (Jim Gordon), Chiklis, Cory Michael Smith (Edward Nygma), Erin Richards (Barbara Kean), Robin Lord Taylor (Oswald Cobblepot), Jessica Lucas (Tabatha Galavan) and James Frain (Theo Galavan) came to the stage.
By far the highlight of the panel was the announcement that Paul Reubens would be playing Cobblepot's father.  The news was big enough, but Taylor's reaction was priceless. He literally started jumping up and down, screaming "Pee Wee Herman is playing my dad!" It's a return of sorts for Reubens, who played the Penguin's father in Batman Returns. McKenzie and Chiklis discussed the relationship between Gordon and Barnes. Building on what we have seen so far this season, Gordon is in a bad place. Having done bad things for Cobblepot, he is on a dangerous path. Barnes is a mentor of sorts, who recognizes that Gordon is sliding down a slippery slope where the ends justify the means.
Stephens spoke a bit about the decision behind the surprises of the last two weeks, with the show killing off both Commissioner Essen and killer Jerome. The writers wanted to create a sense of danger, showing fans that anyone can die at any time (I'm pretty sure Bruce Wayne is safe).
He also said that Season Two is highly serialized, rather than the villain of the week we had for most of Season One. He loves Batman's rich rogues gallery, and that will be the main focus of the season.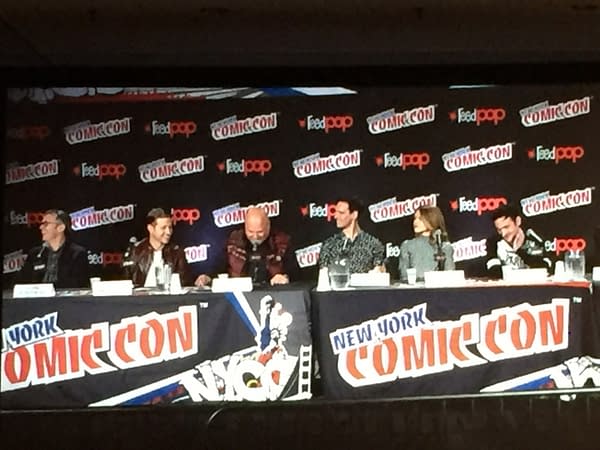 Richards told the crowd how much fun she is having with the character this season. She also said that the signs of "Batsh*t Barbara" were there all along.
Lucas and Frain spoke a bit about our new villains this season. Tabitha is a "crazy badass" who is fond of Barbara. She sees a "baby evil person" in Barbara, someone she can take under her wing (and maybe more). Fain told us that the Galavans have a grudge against the city and that they had family there. He also told us that Season Two will get "very dark indeed."
Chiklis echoed those comments, telling the crowd that "there will be a war."
Gotham airs on Mondays at 8:00 p.m. on Fox.
Rich Epstein writes for Bleeding Cool.  He can be found on Twitter at @kaspe_r11.
Enjoyed this article? Share it!