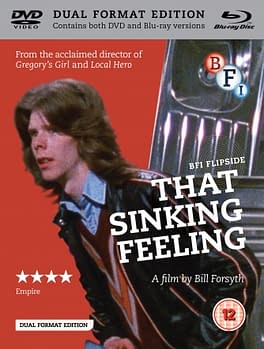 Years ago, I had a friend record a late, late night screening of Bill Forsyth's That Sinking Feeling for me when it aired on some remote satellite channel at an ungodly hour. I treasured the tape.
Then it was issued on DVD… but the soundtrack was screwed. It didn't feature the characters' and actors' original Scots accents but generic Anglo tones, veering closer to cut glass than the suitable brogue. My VHS was still the better option.
This April, though, the BFI are issuing a new dual-format DVD and Blu-ray set of the film. I'm beside myself with glee.
I wish there was a trailer for the film online so I could just show you that. I'll try to explain but not spoil anything.
Some young lads in Glasgow don't have much to do or much money to do it with. They try to plug bot of these holes by heisting a shipment of stainless steel sinks. But… what will do with them once they have them?
All sorts, as it happens.
Forsyth's next film was Gregory's Girl and then he "discovered" Peter Capaldi for Local Hero. The man is a tremendous filmmaker and The Sinking Feeling might just be his best film, with dozens of scenes, jokes, and lines of dialogue that are unpredictable in their rough, wonky humanity, all captured freshly and without any pretence or undue labor.
I promise you, I'll be getting my hands on a copy of this Blu-ray as soon as I can.
Enjoyed this article? Share it!