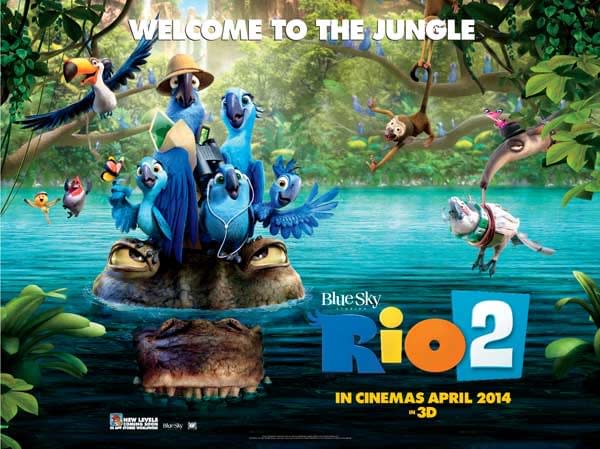 Becki Willmore writes for Bleeding Cool.
A couple of weeks back, Bleeding Cool were invited to Soho Hotel to preview some footage from Rio 2, presented by its director, Carlos Saldanha. The film itself is yet to be finished and, ahead of its release in April, the crowd in the screening room were some of the first people to see any footage at all.
Our hero and heroine, Blu and Jewel are back for Rio 2, now with three children of their own. Having previously believed they were the only Blue Macaws left, they discover that there are more out in the wild. Joined by their friends, Nico and Pedro, they journey in to the Amazon to track down the rest of the Blue Macaws, where Jewel is reunited with her father. All the while, the vengeful Cockatoo Nigel is following closely behind.
Having found the first Rio film slightly underwhelming, I was pleasantly surprised by how entertained I was by the preview footage. Almost all of the credit for this goes to Rio's villain, Nigel, who, after a nasty accident involving some plane propellers at the end of the first film, has been left bitter and unable to fly. Voiced by Jemaine Clement, one half of Flight of the Conchords, his off-the-wall brand of humour makes for some really funny scenes, as well as giving the film a slight edge that has the potential to broaden the film's appeal beyond its primary family audience.
Nigel is one of those characters whose humour may slightly bypass the younger generation but provides some brilliant entertainment for the older audience. Perhaps Nigel makes such a great villain because Rio's director, Saldanha, a self-confessed Flight of the Conchords fan, wrote the character specifically with Clement in mind.
[youtube]http://www.youtube.com/watch?v=ISinAkvXZgc[/youtube]
Clement's talent for witty songwriting particularly comes to life in a brilliant scene where Nigel performs a parody of 'I Will Survive', in an X-Factor-style audition. Saldanha knew he wanted to feature a humorous take on I Will Survive in the scene, but the lyrics in the finished song – rap included – are a product of Clement's imagination.
Saldanha explains that there are three main through-lines to the plot; Blu's (Jesse Eisenberg) journey with his family, Nigel's quest for revenge and Nico (Jamie Foxx) and Pedro's (Will.i.am) talent-scout for the next big thing in the Amazon. Creatures flock from all over the jungle to show off their skills to the judges and the auditions scene is imaginative and entertaining, with a rapping sloth and a mosquito orchestra. Given Will.i.am's position as judge on real-life talent show, The Voice, it seems relevant, if slightly try-hard in its attempt to shoehorn a popular culture reference in there.
It's clear that Saldanha is passionate about making the music in the film as authentic to his Brazilian roots as possible. We were shown a wonderful set piece from the film, where Jewel's (Anne Hathaway) newly-discovered family celebrate her return to the Amazon. A Brazilian body percussion ensemble, called Barbatuques, provide the percussion in the soundtrack, creating all percussive sounds with their body. Interestingly, in order to maintain these authentic Brazilian vibes, the song was first written in Portugese, before being translated to English. It has to be said that the music is wonderful and super-charges the feel-good factor of the film; it gave me goose bumps on a number of occasions.
With Saldanha's obvious passion for authentic, cultural music, it makes you wonder whether there's a subtle comparison being made (intentional or not) to Brazilian music and over-produced Westernized pop music; a sort of friendly teasing that Jermaine Clement also takes part in, making an auto-tune joke in Nigel's rendition of 'I Will Survive' There's real scope for humour in the talent-show plotline, but it would be a shame to see it get over-used as a device for making cheap shots at the music industry, to the extent that it seems to become one of the main messages of the film.
Boosting the musical status of the film, American singer-songwriter Bruno Mars is on board for Rio 2, voicing Roberto, the Amazon's resident ladies' bird, who seems to have a soft spot for Jewel. Saldanha was inspired to ask Bruno Mars if he would be involved after seeing him perform a sketch on Saturday Night Live, where we was surprised to find that he was not only musically talented, but clearly naturally funny too.
With Saldanha having originally written the part of Roberto as a tough guy, with a deep, intimidating voice and brutish personality, it was apparently Bruno Mars who said that the character didn't really fit with what he thought he could bring to the role. Saldanha tells us that Bruno Mars then disappeared for an hour and came back with a song that he'd written for the character of Roberto. Convinced, Saldanha rewrote the part to include singing. Sure enough, Roberto's introductory scene showcases Mars' talent and 'amazing vocal range' as Saldanha describes, while also using humour with his vocals to great effect, showing he doesn't take himself too seriously. Janelle Monae, another recent chart success, is also a great addition to the musical credits, who features on the opening song.
[youtube]http://www.youtube.com/watch?v=FWydp3TSkaU[/youtube]
The entire cast from the first film are back for Rio 2, with some nice new additions, including one of Nigel's sidekicks, Gabby the poisonous frog, and Jewel's long-lost father, Eduardo, voiced by Andy Garcia. The clips we saw instantly set the foundations for a typical father/son-in-law relationship between Eduardo and Blu, who is eager to impress his father-in-law but intimidated by Eduardo's obvious disapproval of Blu's domesticated upbringing. There's a great soccer scene – a part of Brazilian culture that Saldanha was keen to include in the first film but couldn't do organically – in which we think Blu might have finally found something to win his father-in-law's respect, but which inevitably goes wrong, ending with the amusing line from Eduardo, "I'm going to kill you, fanny pack." Saldanha jokes that this relationship was similar to that of his and Garcia's, claiming that Andy Garcia has a real presence that can make you feel a bit uncomfortable.
In isolation, all the scenes we saw were enjoyable, with some fantastic humour, beautiful set pieces and wonderful music, however, the first film had all the same ingredients, but there was something missing to make it a stand-out animation. Nigel's character has really come in to his own and deserves recognition as a brilliant villain and Saldanha has certainly pulled out all the stops with the music, but whether Rio 2 will have that little something extra that was absent from the first film, is hard to tell.
In my opinion, there's potential for Nigel's character to fill this gap; if the writing is as funny throughout as it was in the selection of clips we were shown, we could be in for a real comedy treat.
Rio 2 will be released in the UK on April 4th and in the US on April 11th.
Enjoyed this article? Share it!