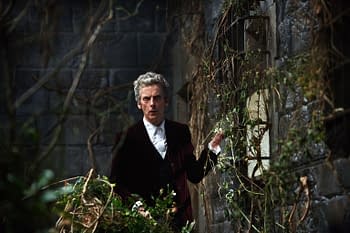 While talking to The Telegraph about Friday's Doctor Who Christmas special, "The Husbands of River Song," star Peter Capaldi mentioned the next season of Doctor Who, his third, may be his last.
"It's terrifying," he admitted. "I love Doctor Who but it can be quite an insular world and I do want to do other things. There will come a time when this is over. But I knew that when I started. I was thinking about my regeneration scene from the outset. That's my terrible melancholic nature. When you accept the job you know there'll come a day, inevitably, when you'll be saying goodbye."
With some variation, an actor typically plays the Doctor for three years.
Original star William Hartnell would have been happy to continue in the role, but was forced out after three-and-a-hair years by management as his irascible nature (and a degenerative brain ailment) became increasingly difficult to work around. Replacement Patrick Troughton, expressing concerns about typecasting, left after three years.
The following two Doctors, Jon Pertwee and Tom Baker, stayed on for five and seven years, respectively. Fifth Doctor Peter Davison, at the suggestion of Troughton, left after his initial three year contract.
Doctors Colin Baker and Sylvester McCoy also enjoyed three years in the part, though Baker's time only amounted to two years of episodes as the show was put on hiatus during what would've been his second season. McCoy only left as the series was unofficially cancelled from under him in 1989. He continued to be the face of the Doctor until the one-off Doctor Who TV movie starring Paul McGann in 1996.
In the New Series era, stars David Tennant and Matt Smith also served in the role for three seasons, though Tennant stuck around for four specials in 2009. Smith also appeared in two specials in 2013. Ninth Doctor Christopher Eccleston left after one year.
With Capaldi's announcement that he may leave, expect speculation about the next Doctor to become a favorite game in the year to come.
Enjoyed this article? Share it!