With the recent news of Peter Mayhew's passing, fans worldwide were left in shock and mourning for the Star Wars actor. This May the 4th weekend, Peter had been scheduled to appear at FAN EXPO Dallas as one of the celebrity guests. Show producers had to quickly decide how to handle the loss and give their attendees a way to express and share their grief.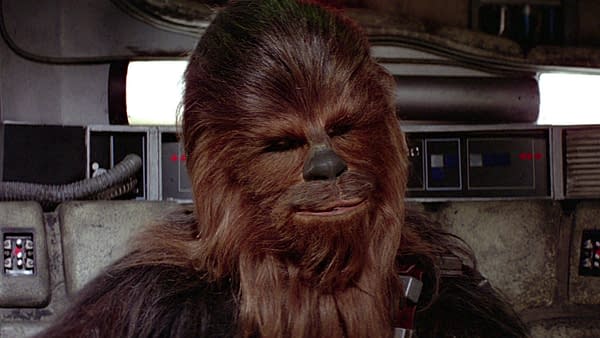 The exhibitor hall had already been largely built out, including Mayhew's guest table in autograph alley. The show's staff made the call to leave the banner in place, and have added flower arrangements, photos, and memorial books to the guest table. Those who would like are encouraged to join the line in celebrity row and may sign their condolences and favorite memories. After the event, the books will be delivered to Peter's family.
Had to pay my respects to the one and only Peter Mayhew. So long, Chewie. @FANEXPODallas pic.twitter.com/rZA8Qvk8rJ

— Alex Cruz (@AIxCruz) May 3, 2019
As word spread and the doors opened, a line formed up and was steady throughout Friday, and is expected to be even more busy over the weekend.
.@starwars fans lining up at Peter Mayhew's booth-turned-memorial shrine at @FANEXPODallas. He was scheduled to appear starting today. pic.twitter.com/DlBVRw3yTn

— Brian Sandler (@_BrianSandler) May 3, 2019
https://twitter.com/gygoradio/status/1124383056251510789
For those attendees wishing to remember Peter's live and memorialize him together, there will be a tribute panel held Saturday, at 6 p.m. in room 1A, with our friend Aaron Sagers moderating the proceedings.
#PeterMayhew was to appear at #FANEXPODallas so let's throw a #PeterMayhew tribute panel 6pm, Rm1A. Come celebrate @TheWookieeRoars w/ memories about the man who was #Chewbacca. Please share even if you can't attend #RIPPeterMayhew #starwars #maythe4thbewithyou @HamillHimself pic.twitter.com/Gk4URLdZZM

— aaronsagers (@aaronsagers) May 4, 2019
Peter passed away on April 30th at his home with his family by his side. A private memorial will take place June 29, and there will be a gathering for fans at The Los Angeles Empire Con in December. Peter is survived by his wife Angie Mayhew, and three children.
Enjoyed this article? Share it!