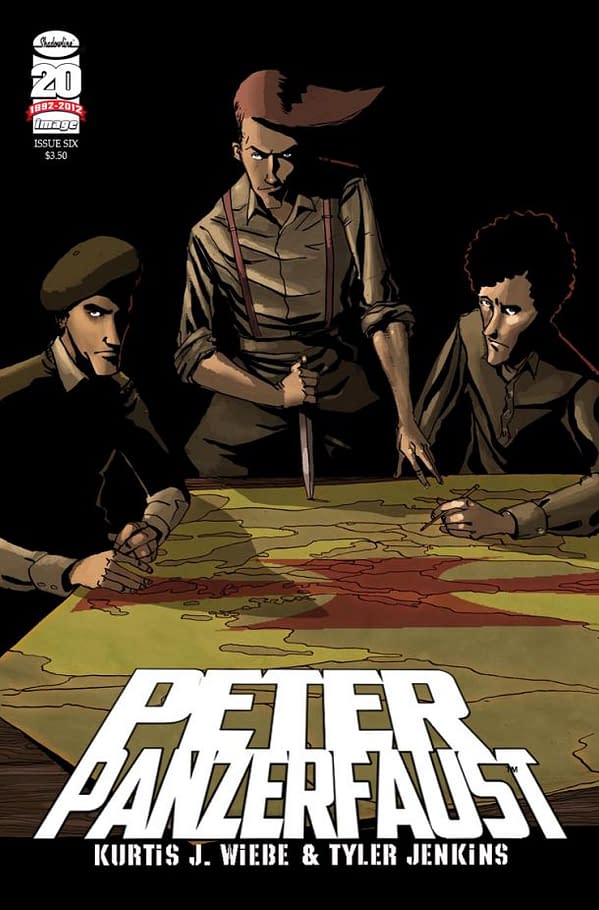 While we await casting news, or really any news at all, on the TV version of Peter Panzerfaust, Image have pressed ahead and added some talent to their motion comics version.
Elijah Wood and Summer Glau have won the key roles of Peter and Wendy, with Ron Perlman cast as Kapitan Haken and Dante Basco, an alum of Steven Spieberg's Hook, joing in as Alain.
Here's Basco's big moment from the Spielberg film.
[youtube]http://www.youtube.com/watch?v=Um8mMa5w41A[/youtube]
Yep, he's a bit of stunt casting and no mistake. Still, I imagine a lot of 30-somethings reading this probably just felt their hearts go flutter.
Panzerfaust is a reimagining of JM Barrie's stories against the backdrop of the second world war; Kurtis J. Wiebe scripts while the art is by Tyler Jenkins. I'm told that it's very good and not just an excuse for that pun title.
I guess this kinda-sorta-slightly-animated version will help promote the upcoming second volume of the collected comics as well as lay some basic groundwork for the pending TV version.
A trailer for this project is to premiere at C2E2 on Saturday April 27, and likely make its way online in the days after. What isn't entirely clear, as yet, is how the full project will be distributed – it seems reasonable to guess it will be streamed online, though a DVD or Blu-ray release wouldn't be out of the question.
Enjoyed this article? Share it!