Lucasfilm and 20th Century Fox have unveiled the first poster for The Phantom Menace 3D. It's interesting to note, I think, that the film is also getting a 2D re-release at the same time.
I assume that all of the minor changes in evidence on the current Blu-ray will also be apparent in the new big screen version.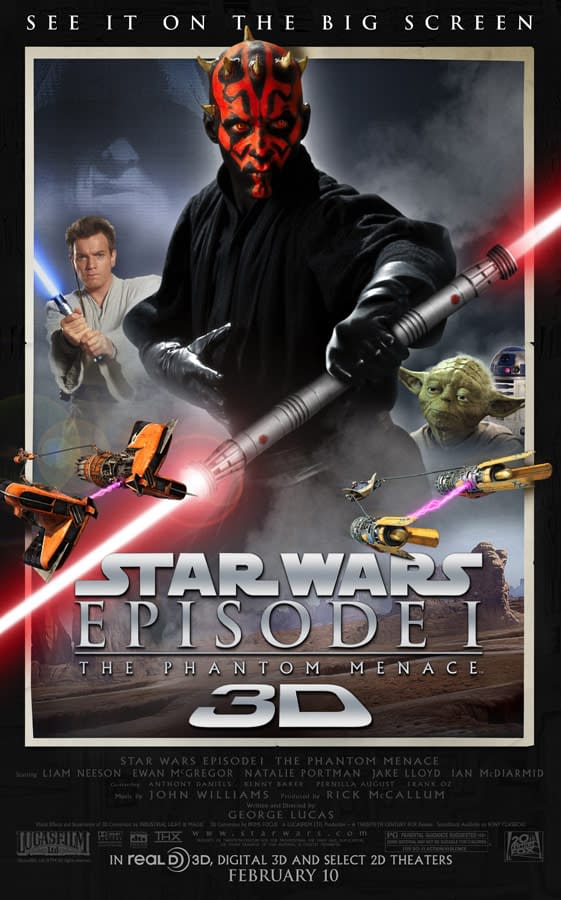 Lucasfilm have also announced that the first trailer for the re-release will screen in US cinemas before The Three Musketeers when it opens next week.
The trailer is also likely to show up online, though not in 3D.
You'll see that Darth Maul, who is by far and away the most fan-pleasing component of The Phantom Menace takes up an awful lot of space on the poster. And where is Jar Jar Binks? Exactly.
It's also no coincidence, I'm sure, that Darth Maul is about to come back from the dead and make an appearance on the Clone Wars TV show. Entertainment Weekly premiered this clip of how he'll be looking in CG.
[youtube]http://www.youtube.com/watch?v=-L4ezHAp4tc[/youtube]
Shrewd synergy, Lucas. But then, you've always been a genius at rejigging continuity to maximise saleability.
Enjoyed this article? Share it!