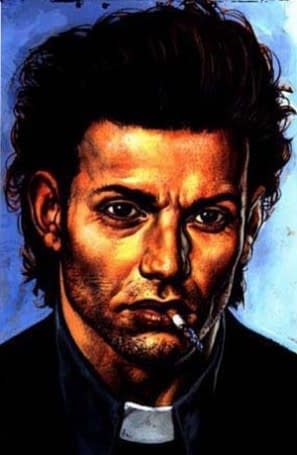 DJ Caruso is certainly not backwards in coming forwards. While on the ongoing international press rounds for I Am Number Four, the director has been talking up the potential cast for his big screen adaptation of Garth Ennis and Steve Dillon's Preacher comics, way ahead of any sort of official word, or even those trade-paper favourite lists of "frontrunners".
If you watch the video at the foot of the post, an interview with Alex Pettyfer and DJ Caruso that was conducted for Clone Web, you'll hear the interviewer describe Preacher as:
Very violent, aggressive and politically incorrect.
To which Caruso says:
That's exactly why I'm going there… what makes Sony so brave is that they can see there's a real universality in the story, when you have good vs. evil, and I think when you have these crazy characters who are are not necessarily politically correct, there's something genuinely attractive to those characters and those situations… I think there's a universality which makes the movie commercial, but at the same time, it's one of those that, every once in a while, will shock you.
When chat comes to casting, Caruso begins by saying that before locking in the actors, he wants to "get the script in really good shape" and then proceeds to tease a possible cast line up anyway:
An actor I love very much and I've had a conversation with is Chris Pine, for Jesse. Shia LaBeouf loves Arseface, he wants to play Arseface…
At this point, Caruso was about to name his preferred Tulip O'Hare when Alex Pettyfer, his I Am Number Four star interrupts with a cough. As a result Caruso says:
This guy right here, he's really thinking that The Saint of Killers is a really good role even though he hasn't read it, though he will.
So, who's this would be Tulip? We were so close to finding out, and Pettyfer went and spoiled it.
This video is so Preacher-centric that I don't think the I Am Number Four PRs will be very happy about it at all.
[dailymotion]http://www.dailymotion.com/video/xhls8t_rencontre-avec-d-j-caruso-et-alex-pettyfer_shortfilms[/dailymotion]
Thanks to Coming Soon for the link.
Enjoyed this article? Share it!