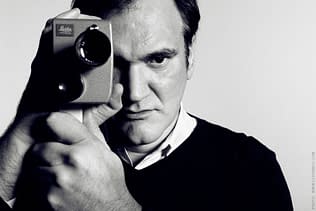 While talking to Variety, The Hateful Eight director Quentin Tarantino suggested he may be open to writing and directing a third volume of his accidental Kill Bill film series. "I'm not committing to it, but I wouldn't be surprised if The Bride made one more appearance before the whole thing is said and done," he said, adding that he has talked to actress Uma Thurman about the possibility.
Originally intended as one film, Kill Bill was cut into two parts by the films' distributor Miramax. Following the 2004 release of Kill Bill Vol. 2, Tarantino occasionally suggested or joked about returning to the characters many years later when the grown-up daughter of Vivica A. Fox's character reignites the cycle of vengeance.
Since then, the director cooled on the idea and subsequently announced he would only make ten films (still counting Kill Bill as one). In Sunday's upcoming episode of Sundance TV's Close/Up with The Hollywood Reporter, Tarantino reiterates his intention to retire from the movies.
Why is Tarantino only making 2 more movies? He expains Sunday on @SundanceTV https://t.co/FGFg4AsOXj #CloseUpWithTHR https://t.co/puxD6zyChW

— Hollywood Reporter (@THR) December 31, 2015
Could Kill Bill Vol. 3 end up being the final film from Quentin Tarantino?
Enjoyed this article? Share it!