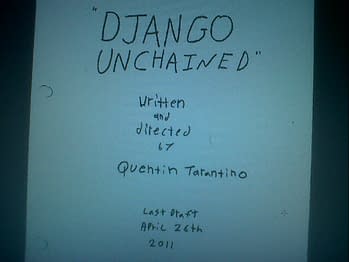 In order to ensure Django Unchained is given due consideration this awards season, The Weinstein Company have published Quentin Tarantino's screenplay as a PDF.
The really surprising thing is that they're using a long-leaked version, complete with scanned punch holes and handwritten page numbers, they've just put an extra, more polished cover sheet on it.
This format makes it very hard to search the script, but you most likely you wouldn't want to do that anyhow.
Indeed, I'm sure many of you won't want to read this until after you've seen the film – out on Christmas Day in the US, Friday January 18th in the UK. Just save it now, while it's there, and read it later.
Enjoyed this article? Share it!