So maybe Fox and co regret their decision to show us our first really good look at Quicksilver in a Carl's Jr ad, but now they're making up for it, somewhat, with a new image from X-Men: Days of Future Past that shows the silver-haired mutant doing what he's actually known to do – going really, really fast.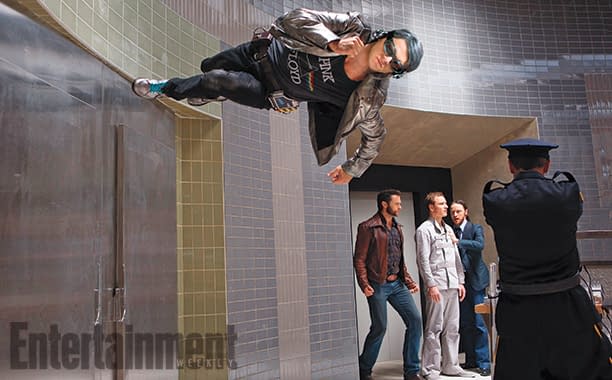 And maybe it makes sense we haven't seen too much of him, because according to producer Simon Kinberg, this scene is his only big hurrah in the film. Here's what he tells EW:
That is the bulk of Quicksilver's presence in this film. They need somebody who can help them get in and out of somewhere. And the idea is that Logan knew him in the future and so they go to try to find his younger self. The way we conceived him is a sort of an ADD kid. Everything he does is just popping and zipping around. He doesn't take anything seriously. He's not in a situation for more than a few seconds. So it infused the movie with an energy that was really useful for us.
And he also totally denies that Fox only put in Quicksilver to get back at Marvel and Joss Whedon and The Avengers:
After we made that decision [to use the character], we heard that Joss wanted to use Quicksilver for Avengers. I think it's kind of cool that Quicksilver is gonna be in two movies, and it will be cool to see different versions of him.
Enjoyed this article? Share it!