Jonathan Rich writes for Bleeding Cool.
Thirty-five summers ago, Eric Zala saw Raiders of the Lost Ark for the first time and it changed his life. For many of the summers since, the teenager who remade the 1981 Steven Spielberg film shot-for-shot with his friends in their Mississippi hometown has relived the adventures of Indiana Jones and last week found the aspiring filmmaker driving across the country in an RV promoting a film chronicling how that teenaged adventure continues to dominate his adult life.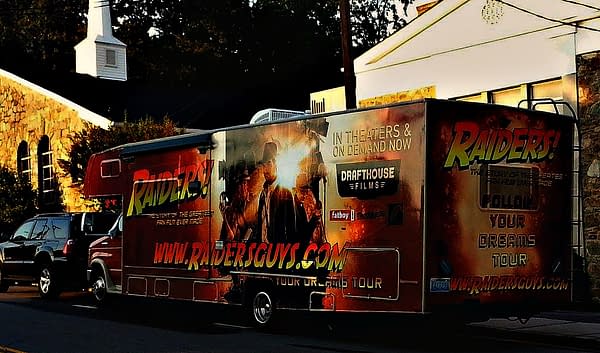 Friday night, Zala and his family parked in front of Grail Moviehouse in Asheville, North Carolina not only for a special screening of the documentary Raiders! The Story of the Greatest Fan Film Ever Made, but also for a question and answer session with the standing room only crowd. After the Q&A, he presented the legendary labor of love he and his friends began making during their free time as teenagers in Ocean Springs, Mississippi in the summer of 1982, the fan film now known as The Adaptation.
"We all saw the film three times in the theater to do storyboards and even snuck in a tape recorder to get the dialogue, audio, and music cues," Zala told the Asheville audience after they had watched the story of how he, Chris Strompolos and their neighborhood friends toiled over every aspect of Raiders of the Lost Ark to make their own version with limited special effects on a camcorder borrowed from the local TV station. "We bought every piece of Raiders merchandise we could get our hands on. Remember, this was before the Internet and even before the film was released on Laserdisc or VHS. Looking back on it all, for the most part it's a pretty faithful rendering."
The project was not without its perils. A whole summer's worth of footage had to be scrapped because the camcorder imposed a huge letter "A" in the upper left corner of what they shot and there was an ill-advised shoot which set fire to the basement of the home where they were filming (you can read more about that here on Bleeding Cool).
"Certain scenes were shot over and over again, but we picked up things about blocking, lighting and pacing along the way," Zala explained. "Another thing about remaking a popular film is that it holds your feet to the fire. You can't cut out that pesky boulder scene if something isn't working because you have to do it all, no matter what."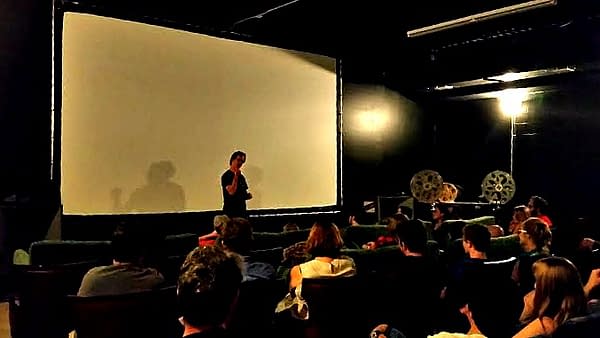 The documentary made by Jeremy Coon and Tim Skousen is much more than just an ode to the adult fans endeavoring to shoot the missing Raiders scene where Indiana Jones battles a huge Nazi on an airfield (a sequence too expensive for the teens to shoot on their own in the 80s.) It goes further to chronicle how friends can sometimes grow apart over the years with unflinching honesty used to depict Strompolos' descent into drug abuse and how the all-too real corporate constraints undertaking the airfield shoot thirty years later put on Zala's career as a video game designer trying to complete a childhood dream.
"We told the documentary crew we wanted to tell our story, warts and all," Zala said during his Q&A at the Grail Moviehouse. "For me, that's what we all loved about Indiana Jones. He's a great character, but he's vulnerable and fallible. When he's punched, it hurts and in kind of a twisted way our film and its story shows how that was true for us too as teenagers and now as adults."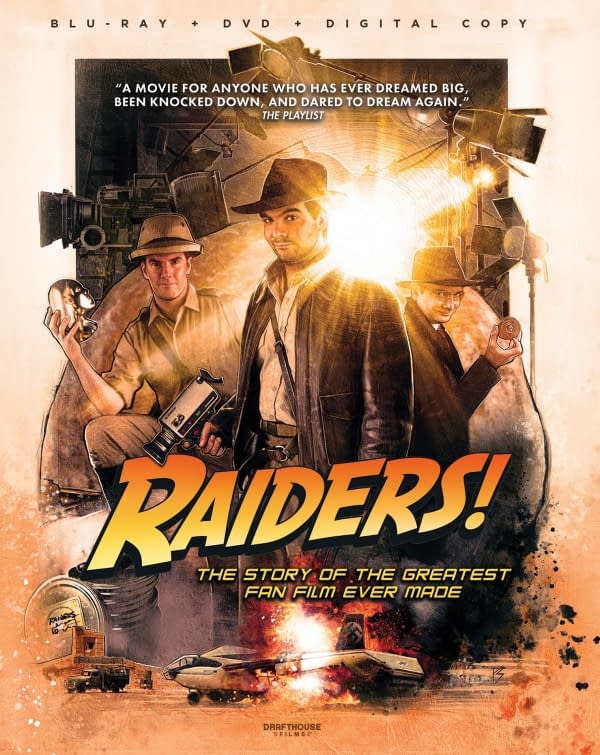 After answering more questions from the Asheville audience, Zala signed merchandise for those in attendance (if you want to buy a copy or even some of the actual props used in their fan film, visit raidersguys.com). Surprisingly, there has been very little legal hassle from the notoriously litigious Lucasfilm folks.
"We weren't thinking about copyright when we were teenagers," Zala explained. "Our initial screenings had the proceeds go to charitable causes and we've had private screenings for Industrial Light and Magic and at Skywalker Ranch, so we've tried to negotiate it all respectfully. We have not officially heard anything from Lucasfilm's legal department and we are very glad they are allowing us to share what we did with people who seem to love it all as much as we do."
As previously announced on Bleeding Cool, the documentary will be available on DVD and Blu-ray next month, but the journey from fan film to big screen documentary has unearthed many treasures along the way.
"At the London screening, I was able to meet Paul Freeman," Zala said. Both played antagonist Dr. Rene Belloq in the big screen and fan film versions respectively. "I asked him how I did and he said, 'When I look up at the poster, I think it's me.'"
Zala admitted he has not heard directly from George Lucas or Harrison Ford about the project, but he knows both are aware of it. Now that he and Strompolos have their own production company (aptly named Rolling Boulder Productions), they hope some other film students may be inspired by how they turned a summer project in their backyard into something which allows them to work in the industry they so admired as teenagers.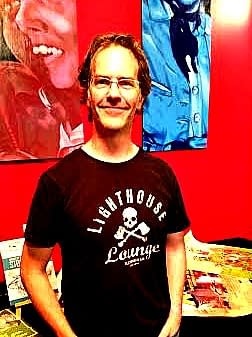 "There are certainly a lot of fan films out there, but I don't know of any other shot-for-shot remakes," said Zala. "We played it straight and tried to be as faithful as possible, hence our abnormal childhood. There will be no Indiana Jones and the Temple of Doom sequel — at least not from us — but maybe someone else can pick up the torch."
Raiders! The Story of the Greatest Fan Film Ever Made comes to disc formats on August 16th. It is currently available on streaming platforms.
Jonathan Rich is a freelance journalist, high school educator, and self-professed comic book nerd working in the Blue Ridge Mountains of western North Carolina. He writes about entertainment and pop culture for various print and web publications, including bleedingcool.com.
Enjoyed this article? Share it!