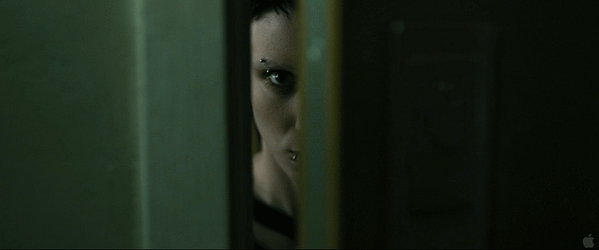 At almost three and three quarter minutes, the latest trailer for David Fincher's The Girl With the Dragon Tattoo is quite the sit down meal. And here's something to chew on: the accents. They're nothing if not varied.
Is there a system here? Or has each accent been settled on independently?
The "babel fish" convention of having actors deliver lines in a language their characters supposedly aren't speaking has always interested me, from the early Biblical epics up to Valkyrie, and now here.
This whole trailer is built on (an imprecise) curve, using more fades towards the start to try and suggest a slower pace, and then ending up in very rapid cutting, and cuts between more disparate elements at that. I didn't notice my heart rate accelerating as I watched it, but that doesn't mean it didn't.
The last shot is the real puzzler – a pretty zippy snippet of Rooney Mara in closeup, shot with "night vision". I assume it's the POV of a camera or some such thing, but it's interesting here for its place and use in the trailer.
This is how we last see the character of Lisbeth, and the last impression that the film clips want to leave with us before going to the credit block and fade out. She's been made inhuman, and we've barely been allowed to fixate on the image before its gone. It's an interesting little bit of mythmaking. I know she's already some kind of alt icon, but I hope the film can balance this approach to Salander with a deeper kind of character development.
Enjoyed this article? Share it!