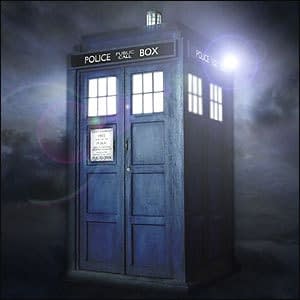 If we're to believe Steven Moffat, as quoted by Doctor Who Magazine, what follows is a scenes being used to audition actors for the role of the twelfth Doctor. Three scenes were transcribed and posted to the web by Doctor Who TV, but by request of the magazine, folk – Bleeding Cool included – are redacting two of the scenes.
Moffat says, in the magazine, that these scenes tell us nothing about upcoming stories or even the character twelfth Doctor. I'll accept the former claim, but surely there has to be some basic implications for how the character is being re-envisioned?
Having said that, I defy yo to try and read on without imagining Matt Smith doing it all. The strongest implication is "He's still the same guy." Kudos to any actor that could take all of this and make it their own.
INT. TARDIS
The new Doctor is checking out the new body. Clara, watching. It's been a few minutes, they're both still adjusting.
THE DOCTOR: Right then, eyesight. Not bad, bit blue. Ears – not pointy, right way up, more or less level. Face – well I've got one. Oh, no -French!
CLARA: French.
THE DOCTOR: I've deleted French! Plus all cookery skills, and the breast stroke. And hopping. Never mind hopping, who needs to hop. Ohh, the kidneys are interesting. Never had that before – interesting kidneys.
CLARA: Are you all right?
THE DOCTOR: I don't know, do I look all right?
CLARA: I don't know.
THE DOCTOR: How's the face? Seems all right from the inside. Nice action, responsive. Bit less heft on the chin. How is it?
CLARA: It's… okay.
THE DOCTOR: Okay?
CLARA: It's a bit… you know.
THE DOCTOR: No I don't, I haven't seen it yet.
CLARA: Maybe it's just new.
THE DOCTOR: Have you changed height?
CLARA: No.
TWO SCENES DELETED BY REQUEST OF DOCTOR WHO MAGAZINE
You know, not only do I find it hard to imagine who or what the next Doctor will be, I find it even harder to imagine just how I could like them as much as I do Matt Smith.
I'm sure there's lots more in the current issue of Doctor Who Magazine than these script pages so go buy it.
Enjoyed this article? Share it!