Ready Player One: First Look At Olivia Cooke As Art3mis
Hey, Gunters, ready to see what Art3mis is gonna look like IRL during the upcoming Ready Player One film from Warner Bros. Pictures? Slide down your Gregarious Simulations Systems visor, strap on those haptic gloves, and log into the OASIS.

Ready Player One is one of the most anticipated recent book-to-film adaptations. Yes, The Dark Tower fans, RP1 is probably higher on the list for the average person right now than your Gunslinger epic. But I digress.
Today, EMPIRE Magazine released a new first-look image from the upcoming Steven Spielberg movie version of Ernie Cline's fabulous futuristic retro love letter to the '80s, Ready Player One. The image features Tye Sheridan's main character Wade Watts, who goes by the moniker Parzival, while running through the VR world of the OASIS and Olivia Cooke as the highest-ranking lady Gunter, Samantha Evelyn Cook, aka Art3mis.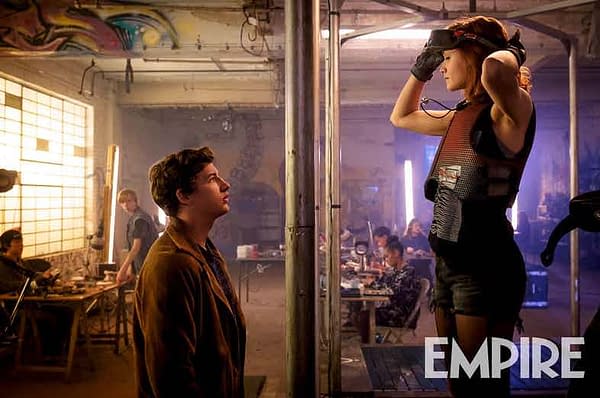 The first thing that comes to mind is WHERE IS HER FREAKING BIRTHMARK?!?! Maybe this is a big giant spoiler if you haven't read the books, but Art3mis has a very large purple birthmark on the majority of her face. And in this image, there is ZERO indication she'll have it in the film. True, we can only see half of her face, so maybe it's on the other side, but going off the description in the book, it should cover more of her face.
Also, WHY ARE THEY AROUND OTHER PEOPLE?! In the book, Parzival and Arty do their best to avoid being around other people, minus Wade's best friend Aech and the latter Gunter companions Daito and Shoto. Yes, there is a section where Wade ends up in a public OASIS access cafe thing, but Arty is not present when that happens.
This lends some credence to the possibility of the film following a not-so-faithful adaptation theory that some fans have expounding upon after a leaked final-ish shooting script made the rounds.
After such a positive response from the teaser trailer release at SDCC, one can only hope the nitpicking of "well, in the book," gets forgotten in the spectacle of the actual film. I'm really trying to stay optimistic here, but this new image isn't doing a damn thing to foster that.
Ready Player One is set to hit theaters on March 30th, 2018, after a date shift from the original date of December 2017.