Watch: 'Ready Player One' Author Ernie Cline Thanks Fans in New Video
Six years ago, I somehow managed to nab an in-person interview with author Ernie Cline during a San Francisco stop on his book tour. Maybe you've heard of it, a little thing called Ready Player One.
Ernie was doing the cross-country tour in his vintage vehicle of choice (also that of "RP1" main character Parzival), a super tricked-out DeLorean with flux capacitor and the vanity plate of ECTO-88. I recently found the original unedited videos of the afternoon I spent with him, and we'll be getting those put up soon.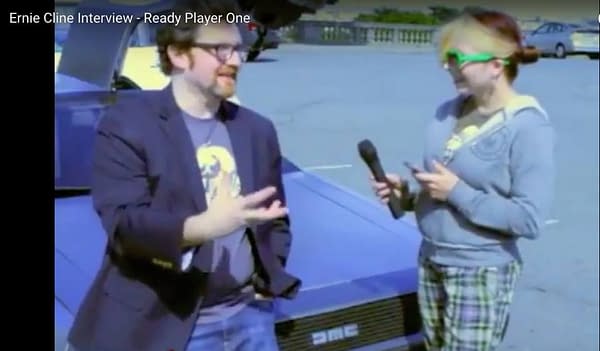 It's been a long trip for the self-professed ultimate fanboy — who also, you know, wrote the movie Fanboys (RUSH *IS* VARIETY!) — is sure having a good year. The WB film Ready Player One (directed by Mr. Steven freaking Spielberg no less) based on his first novel just premiered to pretty stellar reviews at SXSW, and early ticket sales for opening day just started too.
There was also the Indiana Jones-like treasure quest screenwriter Zak Penn (who wrote the Ready Player One script, actually) and co. (including Ernie) embarked on a few years ago, to uncover one of the greatest urban legends of the video game era — did Atari really bury an obscene number of E.T. game cartridges in the middle of the desert? Spoiler: they did. The documentary is still on Netflix, and it's totally required viewing ahead of RP1 hitting theaters. Today on Ernie's Twitter, he posted a video (also to his YouTube account) thanking his fans across the globe for their support of his works. It's set to a familiar tune, if you're a fan of RP1, an Oingo Boingo song that carries a certain importance to denizens of the OASIS and the Anorak's Quest Gunters out there:
With the #ReadyPlayeOne movie being released in a few weeks I wanted to take a moment to express my thanks to all the fans around the world who helped make the book such a huge success over the past seven years. Thank you all from the bottom of my heart!
https://youtu.be/-Ls8N_dYtv8
Also, if you haven't picked up his second novel Armada, you totally should (and also check out this book signing event he did three years ago for it.)
Thank YOU, Ernie — can't wait to read/see what you do next.