FOR REAL THIS TIME, The New "Tomb Raider" Trailer Hits
Earlier today you may recall a trailer for the upcoming Tomb Raider film being released early "accidentally" by actor Daniel Wu on his instagram. Needless to say, the sudden appearance of the trailer was quickly rectified by Warner Brothers, and it went poof.
Officially though, the trailer was JUST premiered tonight on The Late Late Show with James Corden:
Staring Oscar winner Alicia Vikander (Ex Machina, The Danish Girl), this new Tomb Raider film will follow main character Lady Lara Croft during her early years, theoretically using the most recent Tomb Raider video games as their map.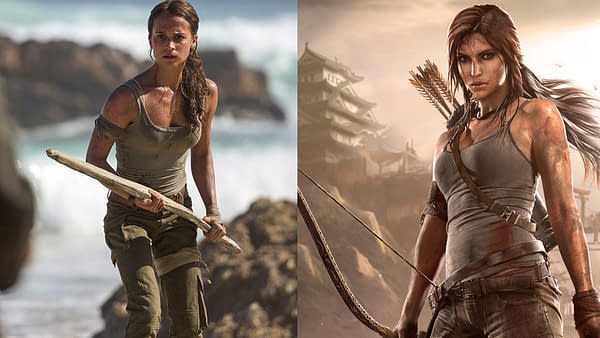 Going explicitly against his final wishes, she leaves everything she knows behind in search of her dad's last-known destination: a fabled tomb on a mythical island that might be somewhere off the coast of Japan. But her mission will not be an easy one; just reaching the island will be extremely treacherous. Suddenly, the stakes couldn't be higher for Lara, who—against the odds and armed with only her sharp mind, blind faith and inherently stubborn spirit—must learn to push herself beyond her limits as she journeys into the unknown. If she survives this perilous adventure, it could be the making of her, earning her the name "tomb raider".

Roar Uthang is directing the film for Warner Brothers.
Dominic West (Money Monster, 300) will play Lord Croft Lara's father, Walton Goggins (The Hateful Eight, Django Unchained) will play Mathias Vogel, Daniel Wu (AMC's Into the Badlands) will play Lu Wren, and Hannah John-Kamen (Killjoys) will play Sophie.
Tomb Raider is set for a March 16th 2018 release, and we can't wait!