Rebel Moon: Why Netflix Gave Zack Snyder A Two-Picture Deal
Netflix is writing director Zack Snyder a lot of checks these days, and the heads of the original film group, explained why they greenlit a two picture deal for Rebel Moon.
---
Zack Snyder and Netflix appear to be a match made in Heaven, at least at the time of writing. His Army of the Dead and its spinoff Army of Thieves did very well for the streaming service, and they were quick to give Snyder the things he needed to make more films like that happen. However, Snyder and Netflix weren't done, and they greenlit not only one massive science fiction epic titled Rebel Moon they also got Snyder the resources to spread the film across two planned installments. That's a lot of checks for Netflix to cut to one man, and Variety got the chance to speak to Kira Goldberg and Ori Marmur, who run Netflix's original film group. They asked what gave them the confidence to greenlight such a large and ambitious project. Marmur went on to explain that it was the passion that Snyder brought to the project that gave them confidence in Rebel Moon.
"Zack came in with so much passion," Marmur explained. "This is a film that he's had in mind for decades. As you know, he's spent so much time working on other people's IP at other studios. We worked with him on "Army of the Dead," and we did things that others couldn't do. We made a film and then a prequel and launched a live experience. With "Rebel Moon," he wanted to push the envelope again. When we saw how big the world he created was, we thought it would be better served as two pieces versus one film. It's the kind of story that can continue to grow. He thinks of it as his take on making something like "Star Wars."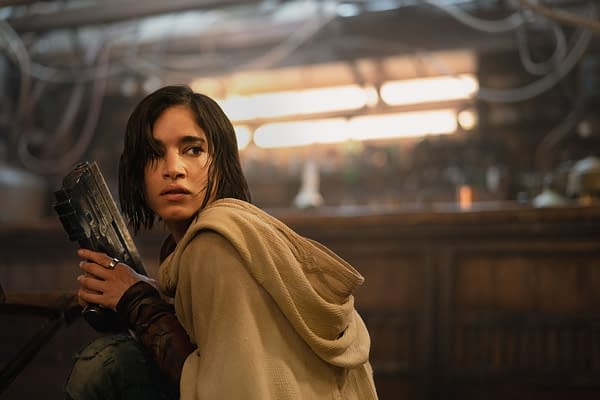 For as long as Star Wars has existed, people have been trying to replicate the franchise's success with middling results. It isn't surprising that Netflix wants to try and get its own version of a massive science fiction franchise that could span for years or decades if it manages to hit correctly. We have a release date for this one as of yesterday, and I'm going to make a prediction. I think Netflix will replicate the release rollout that Glass Onion had for Rebel Moon. It will likely have a limited theatrical window for Thanksgiving, and then it will roll out on Netflix the following month after weeks of hype from people who saw it during the limited release. So Snyder fans who are a little bummed a movie like this is on Netflix? I think you'll have the opportunity to see this on the big screen.
Rebel Moon: Summary, Cast List, Release Date
When a peaceful colony on the edge of the galaxy finds itself threatened by the armies of the tyrannical Regent Balisarius, they dispatch a young woman with a mysterious past named Kora to seek out warriors from neighboring planets to help them take a stand. Rebel Moon is directed by Zack Snyder and stars Sofia Boutella, Djimon Hounsou, Ed Skrein, Michiel Huisman, Bae Doona, Ray Fisher, with Charlie Hunnam and Anthony Hopkins as the voice of "Jimmy." Also starring Cary Elwes, Corey Stoll, Jena Malone, Fra Fee, Cleopatra Coleman, Alfonso Herrera, Stuart Martin, Staz Nair, Sky Yang, Rhian Rees, E. Duffy, Charlotte Maggi. It will stream to Netflix on December 22nd.