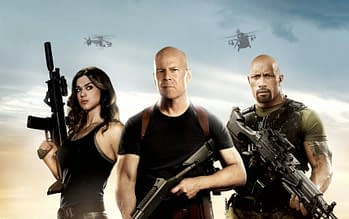 Professional Belieber and Step Up maestro John M. Chu was maybe a surprising choice to direct the second GI: Joe movie but I applauded Paramount's decision to match a big action tentpole with somebody skilled in choreography.
Sadly, the finished film did little to get my motor running but it was a great leap forward from the first instalment, and Chu should take some credit for what he did manage to get right. And there's no denying that the film was more popular than the first.
And so, according to Deadline, Paramount are now brokering a deal with Chu for him to come back and direct the third picture in the series. At the moment there are no writers attached but meetings are taking place, pitches being given and soon enough, Chu will have his collaborator.
I'm sure the studio will also want to book in The "Dwayne Johnson" Rock and Bruce Willis. As long as they find some fresh blood too, of course – there's already one Expendables franchise, and I really don't think there's the appetite for another.
Chu has been developing a big screen version of Masters of the Universe. I doubt we'll ever see it, but who knows. Maybe he'll go back to Greyskull after GI: Joe 3. Perhaps the Thor films will get the audience sufficiently prepped for He-Man.
Enjoyed this article? Share it!