Republican National Committee Unhappy About Hillary Clinton Projects At NBC And CNN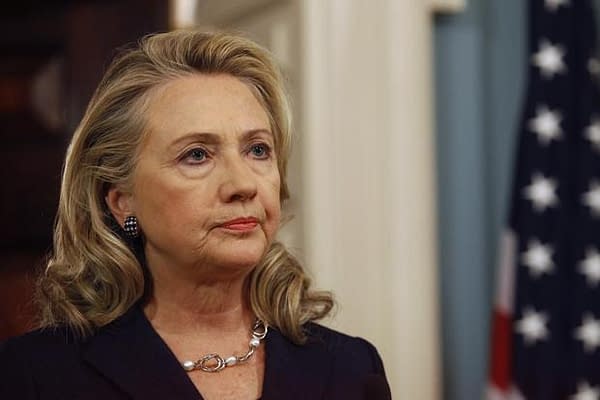 The Republican National Committee have threatened to bar Republicans from taking part in primary or Presidential debates on NBC or CNN in 2016 following the networks' decisions to make a film and mini-series about Hillary Clinton.
A report at Breitbart has detailed the two letters that RNC chair Reince Priebus sent to the networks and he doesn't mince words. In the letter to CNN, who are planning to make a documentary about Clinton to air in 2014, Priebus questioned CNN's credibility:
I find CNN's actions disturbing and disappointing. Your credibility as a supposedly unbiased news network will most certainly be jeopardized by the decision to show political favoritism and produce an extended commercial for Secretary Clinton's nascent campaign.
In his letter to NBC, who have a mini-series with Diane Lane playing Clinton in the works, Priebus claims that NBC are also essentially running a commercial for Clinton.
I find this disturbing and disappointing. NBC cannot purport to be a neutral party in American politics, and the credibility of NBC News, already damaged by the partisanship of MSNBC, will be further undermined by the actions of NBC Universal executives who have taken it upon themselves to produce an extended commercial for Secretary Clinton's nascent campaign.
CNN and NBC have issued statements in reply to Priebus' attention grabbing letters, which I first saw at CNN's Political Ticker blog.
NBC kept it brief and to the point,
NBC News is completely independent of NBC Entertainment and has no involvement in this project.
And CNN pointed out that Priebus was making assumption about something he hasn't actually seen,
CNN Films, a division of CNN Worldwide, commissioned a documentary about Hillary Clinton earlier this year. It is expected to premiere in 2014 with a theatrical run prior to airing on CNN. This documentary will be a non-fiction look at the life of a former First Lady and Secretary of State. Instead of making premature decisions about a project that is in the very early stages of development and months from completion, we would encourage the members of the Republican National Committee to reserve judgment until they know more. Should they decide not to participate in debates on CNN, we would find it curious, as limiting their debate participation seems to be the ultimate disservice to voters.
They both have a point.
Priebus' claim also seems to me to be far too simplistic an assessment of the situation, and his claims really are based on an idea of what this mini-series and film will be like and not what they are actually like. He hasn't seen them. That really can't be stressed enough.
There are precedents for this kind of thing too. HBO made Game Change, which hardly cast Sarah Palin in a good light, but as a cable channel they're in an easier position than NBC or CNN.
NBC did make The West Wing though and four years prior to the 2008 presidential election, which Barack Obama of course won, they introduced the character Matt Santos (Jimmy Smits), who the writers freely admitted was based on Barack Obama. And, spoilers for The West Wing, in 2006 Santos won.
Did this threaten the credibility of NBC's News division and lead to complaints and threats from the RNC? No.
I wonder if perhaps the RNC is trying to make some fuss here in the hope that it will reflect badly on Hillary Clinton herself and work in favour of their candidate, whoever he or she ends up being. Also, the various Republican contenders for the 2012 presidential election didn't exactly cover themselves in glory in the televised debates, so maybe the Republican party would benefit from no debates playing on CNN or NBC.
If CNN and NBC don't agree to pull the programming by August the 14th, the date of the RNC's Summer Meeting, a binding vote will be sought from the entire RNC in order to stop any involvement with the networks. If that does happen I think that's going to reflect a lot worse on the RNC than NBC or CNN.