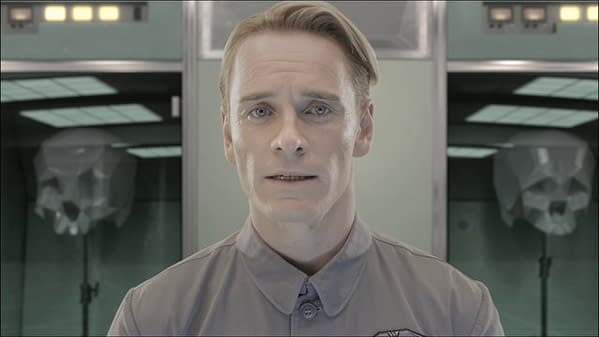 This is interesting. Nattering at a junket, I heard a rumour about the Prometheus sequel needing Michael Fassbender to play multiple David 8 synthetics and it's now this is being corroborated by The Wrap.
I wonder if this means the other half of the rumour, about the film leading us right up to the beginning of Alien, will also pan out? Maybe the gossipeers just made a lucky guess.
Anyway, enough of those maybes, here's the status as it stands now. Ridley Scott is planning to shoot Prometheus 2 later this year, and it will indeed take the March 2016 release date that came up for discussion the other day. Green Lantern and Gotham's Michael Green will take a fresh pass at the script, working from a draft by Jack Paglen, and having apparently pleased Scott with his take on the Blade Runner spin-off.
According to The Wrap, the tone of the film will be much more like Alien than Prometheus, and while that's no bad thing, I'm not sure tone and atmosphere were where Prometheus let us down.
I was secretly hoping Johnny Hardstaff was going to get his hands on the Prometheus sequel while Scott marched on to something else on his very long list of intriguing engagements – The Forever War, in particular, seems somewhat overdue.
Hardstaff directed the various 'virals' associated with the first Prometheus and they were as cold and sharp as ice. Don't you want to see what the man behind this short video can do with a feature film running time?
[vimeo]https://vimeo.com/54286207[/vimeo]
UPDATE: Variety are saying Ridley Scott may not direct, though he will produce, and that the film doesn't yet have a release date… this being despite a March 2016 date on Fox's calendar being held ready for some sort of Scott-related film. Hmmm.
Enjoyed this article? Share it!