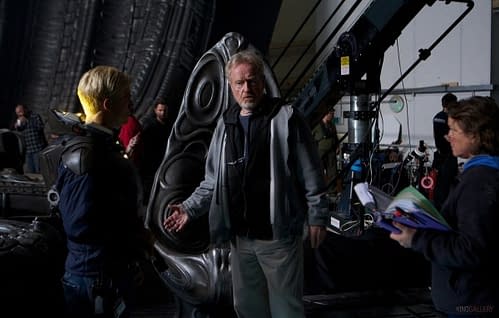 After this morning's preview of 12 minutes of footage from Prometheus, Ridley Scott took part in a Q&A with the amassed press. Lots of interesting tidbits were chewed over, and I'm sure we'll talk about many of them here as the day winds on.
First though, here's the big, controversial bombshell that had some of the crowd surprised and, in some cases, not too pleased.
It was really the only thing to needle the audience, mind, so that's not a bad score. Everything else had the audience pretty much eating out of Ridley's hands.
Scott was asked what certification, or rating, he would want for Prometheus. Here's his answer:
I want certification for this film that allows me to make as large a box office as possible…

The studios wrestle constantly with these ridiculous adjustments to whether it's PG13, PG15, R, double R and it does, to a certain extent, affect the box office, which is arithmetic, which is not a cash register, it's how they get their money back and if studios don't get their money back we don't have any movies.

And so it is important that films are successful and I am fully supportive of that because I'm not just a director, I'm also not stupid. I've been in this business long enough and to a certain extent I'm a businessman.

So when a big film fails it's disastrous for all of us. When a big film wins it's terrific for all of us, whether you like the film or not, it's really cool. So the adjustment of the ratings… are inconsistent and ridiculously inconsistent, so I can start talking about films that have got PG13 this year, which are absolutely fucking ridiculous… is anyone in here from the MPA or whatever it is? …Get your house in order.
There were those in the audience who wanted an "It's going to be an R! Guts and gore and ladyparts!" answer, and after the Q&A, some were overheard muttering. Still, the were quickly cheered up by changing the subject to the footage we'd all seen.
Film Chronicles have the full audio of the entire Q&A up now, if you'd like to listen to it. I'll be back with more later, and a little context of how it relates to the footage.
Enjoyed this article? Share it!