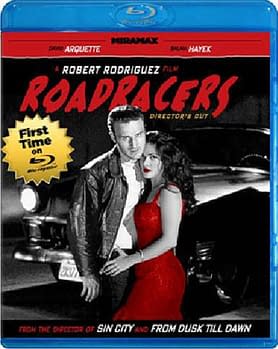 Shot super-fast on a TV schedule, Robert Rodriguez' Roadracers is a model of the man's early, energetic film making, favouring imagination and muscularity over sprawling crews and swampy technicalities.
And now Roadracers has been restored for DVD and Blu-ray rerelease, it looks better than I'd ever seen it before. Thank heavens somebody kept a hold of those old 35mm reels.
The film gave Winters Bone and Martha Marcy May Marlene stand-out John Hawkes his first on-screen leading role as Nixer, sidekick to David Arquette's Dude Delaney. I got to speak to Hawkes recently, and took some time to ask about his memories of working on Roadracers.
Here's what he had to tell me.
I almost always see a completed version of whatever I've worked on. Almost always. I'm generally really interested in how the film has come together, how I hopefully helped tell the story and how all the craftspeople from the wardrobe to the editors, musicians and all the people that make the movie go, I want to see how all that comes together. But I don't have a VHS player anymore and I only have Roadracers on VHS. I was lucky enough to see the film on the big screen at a festival with Robert Rodriguez maybe five or six years ago in Dallas, but I haven't seen it since and I look forward to seeing it again now it's coming out again.

I recall the shoot as going smoothly, but that's as an actor, not somebody with the perspective of a producer or director. Robert somehow did well over 500 set ups on a very short shoot. A lot of big Hollywood movies will shoot three camera set ups a day, or four, Robert was shooting fifty a day on average. We were moving. There weren't a lot of takes.
Robert tends to see the story in his head so he tends to shoot little tiny pieces that, to an observer, don't really make sense but everything that he shoots he pretty much uses. He doesn't just guess like a lot of directors, he really knows what he needs. That was true even then.
I came from theatre so I just showed up ready to go and ready for anything. With Robert that was a good thing. We stuck to the script a lot but we there were things that we changed on the fly, and ideas for shots that he would have that weren't in the script but ended up being useful. None of this affected my process in a negative way. It was great as an actor to not be sitting around a lot but to be telling the story, and working.
The Northridge Earthquake of 1994 happened right in the middle of our shoot. We had one day off and then we went and shot the roller skating scene in the middle of a lot of aftershocks. A memorable day.
A lot of this shoot is really clear in my memory and lot of other work from that time isn't. I feel like Roadracers was a peak experience for me, at the time – and still. This was the first time I felt like I'd gotten to create a living, breathing, well-rounded, albeit odd, kind of character. It was very gratifying at the time and in watching the final product, I felt vindicated and part of something vital and interesting, and ahead of its time, maybe, a little bit.
The character of Nixer was very much based on Tommy Nix [the co-writer]. Not based on his life, but Tommy and I even got to favour one another a little bit and I got to know him and see him over the years, here and there, when I'm lucky enough.
Robert knew Tommy as a buddy and as a writer-buddy. I think the story is they hopped in a car and drove down to Mexico because Robert wanted to do some shooting, he wanted to shoot an action sequence kind of for nothing. I think they rented a camera and over a three day span, drove down to Mexico, made up the Roadracers story as they went and wrote down things that they saw.
They wanted a sidekick character like Tommy. It was almost reflecting he and Robert's relationship at the time, of Robert being the guy who is responsible for a lot of things and Tommy, in a valuable way, tagging along and sidekicking.
Having Nix right there, I didn't pattern myself after him per se, because the role was right there on the page, but it was a kick to be standing next to Nix when I was playing Nixer.
I also spoke to Hawkes about a couple of his upcoming films, and you can read that in a separate post.
Roadracers looks great on its Blu-ray. It's also incredibly cheap right now – almost criminally so. Fans of the earlier, hungrier Rodriguez will do well to check it out. And importers: I can confirm that it plays in all regions.
Enjoyed this article? Share it!