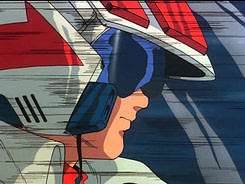 Love it or hate it, Robotech is an important part of anime's history in the US. The project began as an attempt to faithfully adapt Super Dimension Fortress Macross for the American market, but got sidetracked when it needed additional episodes for syndication. The eventual eighty-five episode epic merged Macross with two other Japanese animated programs and created a brief television sensation that some children of the 80s cherish.
And others curse its very existence.
But according to Deadline, the series and its sequel film, Robotech: The Shadow Chronicles will anchor Crackle's new Crackle Anime channel starting May 15th. The deal appears to only include the existing episodes and the one film, so a new Robotech series continues to be a long-shot.
The original series followed three generations of Earthlings as they battled, and eventually befriend, three alien races in pursuit of a fantastical power source. The Shadow Chronicles intended to introduce a fourth — though that race might be familiar to fans who read the Robotech novels — but the film failed to generate further installments.
A live action film has been in the works for years. Most recently, Sony, the owners of Crackle, has been said to be developing the film with James Wan in line to direct. But that deal is not yet finalized.
While broadcast on Crackle may bring the series new fans, it seems the whereabouts of Admiral Hunter, at least in his animated form, will continue to be a mystery.