 A memoir of a fictional character is a tricky feat to pull off, but it's perhaps a little easier when the character in question is egotistical and prone to lying. It certainly allows for some fun to be had in making up wild stories.
One recent fictional memoir that did just that was I, Partridge: We Need to Talk About Alan, the autobiography of failed TV presenter and local radio DJ Alan Partridge. It's a hilarious read and the audiobook version, read by Steve Coogan in character, adds to the experience and the comedy a great deal.
No doubt envious of Alan's success Ron Burgundy is getting in on the action – I rather love the idea of them both existing in the same fictional world, even if it's just in my head – and is releasing a memoir in November.
'Burgundy' was quoted at The New York Times as saying,
I don't know if it's the greatest autobiography ever written… I'm too close to the work.
The book is entitled Let Me Off at the Top!: My Classy Life and Other Musings and is available to pre-order in America and the UK. If they don't do an audio book tie-in as well they're really missing a trick.
The book will be released on November the 19th, just over a month before the Anchorman sequel, Anchorman: The Legend Continues, is released on December the 20th. The Playlist got their hands on two new images from the upcoming film this week, one is at the head of this post and the other below.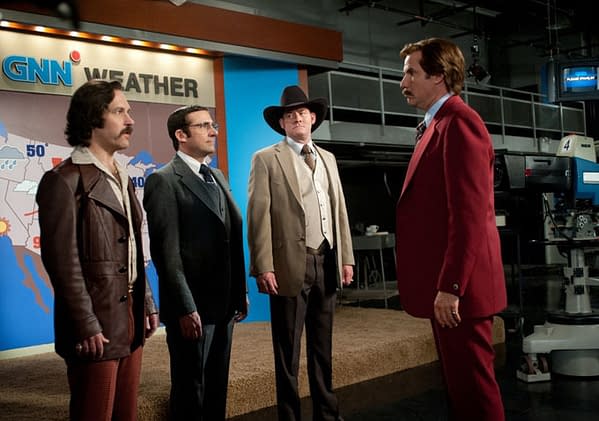 Enjoyed this article? Share it!