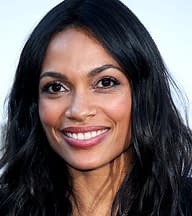 Variety reports that Daredevil's Rosario Dawson will lend her voice to Batgirl in Warner Bros.'s upcoming Lego Batman, the big screen spin-off of 2014's The Lego Movie. She joins Will Arnett, Michael Cera and Zach Galifianakis in the film, which will see Arnett's Lego Batman take center stage with Cera as his Robin and Galifianakis as Joker.
A previous direct-to-video film, Lego Batman: The Movie — DC Superheroes Unite was released in 2013, featuring Troy Baker as Batman. It also introduced the Lego Justice League, which continues to appear in video releases to this day.
The film is directed by Chris McKay, supervising animator on The Lego Movie, and was written by Seth Grahame-Smith, who is getting his own superhero in the form of the big screen Flash. Lego Batman is scheduled for a February 10th, 2017 release.
Enjoyed this article? Share it!