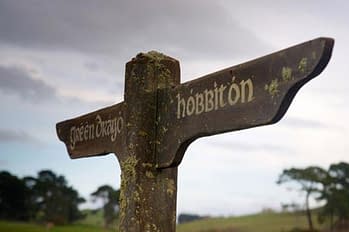 On hearing rumours of a Middle Earth theme park I immediately doubted such a thing would ever come into being, largely as the Tolkien Estate are known to be very particular about how the works of JRR are merchandised and commercially exploited.
For example, they have very recently filed a lawsuit against Warner Bros. and the Saul Zentz company over "online fruit machines" with Middle Earth movie tie-in branding.
Nonetheless, Mice Chat's report on the possible theme parks claim that the Tolkien family have been approached and are even close to agreeing a deal. They say:
Why Universal? How did they land yet another successful literary film franchise? Don't think that their expert handling of J.K. Rowling's Harry Potter universe had little to do with it.  In fact, Rowling seems to have even had a hand in convincing the Tolkien family that Universal Creative was the way to bring Middle Earth to life.
Hmm. This might be asking me to believe just a little too much for now.
The One Ring also link to a forum with comments predating Mice Chat's story.
Universal asked Warner Bros. to approach the Tolkien family since the Tolkien's trust WB with the success of the LOTR series. WB described how Universal was willing to work with JK Rowling and how the 2 of them (WB and JK) held Universal's feet to the fire to uphold Rowling's vision of the IP. And I believe that the Tolkien's may have actually talked to JK Rowling. This was before Universal said a word to the Tolkien's. So after WB stoked the fire, Universal entered the picture with an impressive plan.As of now there is a lot of hammering out to go, but Universal has gotten a lot farther than Disney ever did.
That story seems to fall apart right away. The Tolkiens trust Warner Bros.? Really?
I don't know if there's any credibility to these reports at all, but it's an interesting rumour. I'll go on doubting there's any substance to it, mind, unless somebody I trust speaks up, or some actual evidence arrives.
At the same time, I don't think it's impossible – The Hollywood Reporter's story on the fruit machine case does make it clear that Warner Bros. have the rights to "tangible" merchandising and theme parks are pretty darn tangible.
There's already a Middle Earth attraction of some kind, too, with the Green Dragon pub in Matamata, New Zealand, replicating a Hobbiton drinking hole right where Peter Jackson filmed the Shire scenes for the movies.
If that pub cut through the red tape, then I'd believe a theme park could be developed… it's just that these particular reports, with their JK Rowling subplots and all, seem like tall stories to me.
Enjoyed this article? Share it!