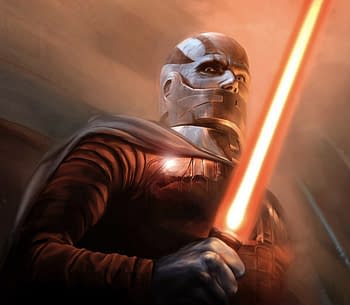 We're hearing from all over the place that Lucasfilm are at a very experimental stage with their Star Wars films right now, dabbling with ideas from left, right and centre. Not all are progressing, and few will go all the way, but Kathleen Kennedy and company are feeling pretty adventurous and have been turning over every stone they can in the search for the right projects.
And so it is, say Aint It Cool, that the studio might be investigating a Knights of the Old Republic movie.
Knights started life as a video game, written by Mass Effect's Drew Karpyshyn. He has more Star Wars experience too, having published a novel, Darth Bane: Path of Destruction. Last spring, he famously left his job with game developer Bioware to concentrate on screenwriting and his proposed fantasy novels, the Children of Fire trilogy.
But now rumours abound that he's working with Lucasfilm on their early plans for a Knights movie. Aint It Cool say that chatter has been going round Bioware.
And so it might. But we've know way of knowing, yet, if this is some inside knowledge passed around at Karpyshyn's old workplace, back and forth between his old colleagues; or if it just started out as speculation that then grew and grew and just broke the surface when it got too big.
I guess I'm sceptical about the prospect as I'm really expecting Lucasfilm to wipe the 'extended universe' away and start over. I don't think we'll be seeing a single character, setting or even from any of the spin-off novels, TV series, videogames or anything else.
Still, they might head down a Knights-ish path, and Karpyshyn seems like a good guy to bring in to consult or give a shot at pitching.
Enjoyed this article? Share it!