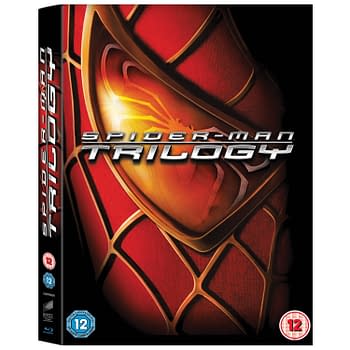 I've seen Marc Webb's The Amazing Spider-Man, but I'm under embargo and can't review it just yet. A shame, really, because I think you'd really want to hear more about it. I'll be able to bring you some details from the film's premiere tomorrow, and we'll also have a full review next week. The film will then be released across the US and UK the week after that, on July 3rd.
In the meantime, you may want to rehearse a little with Sam Raimi's trilogy. All three have been reissued on Blu-ray, and the current price for the full box is actually quite incredible.
You can pick it up for just £9.97 from Amazon. That's going to come to less than $20 with shipping to the US too, I think (though going most of the way through checkout is probably the only way to tell exactly what they'll charge). All three included discs are region A-B-C coded, too, so you don't have to worry about them not working on a US player. Or a Japanese one. Or Dutch one. Or whatever.
I'm still head over heels with Spider-Man 2, I have to say. Being a middle part of a tentpole franchise is probably fogging its reputation a little, but I don't think these big action comedy drama adventure stories can get too much better than that.
On top of 2, 1 and 3 are just gravy and mushy peas.
Enjoyed this article? Share it!