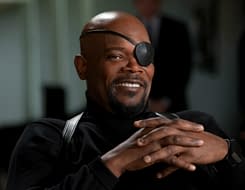 While Nick Fury — as played by Samuel L. Jackson since the first Iron Man — has gone to ground in the Marvel Cinematic Universe following the events of Captain America: The Winter Solider (with a brief, but helpful appearance in Avengers: Age of Ultron), the actor still has two film appearances left in his nine-film contract with Marvel Studios. And it seems one of those appearances may be in the upcoming Thor: Ragnarok.
Australia's Gold Coast Bulletin (via Comic Book Movie) reports the actor is "tipped" to join the cast, which includes the returning Chris Hemsworth and Tom Hiddleston. The site notes the actor was previously shooting Kong: Skull Island at the Village Roadshow Studios, where Ragnarok will soon begin production.
Of course, it is unclear if the actor will truly be on the call sheet when filming begins. It is possible his final contractually obligated appearances may be saved for the two-part Avengers: Infinity War, closing out his (presumed time) as Fury back with the team he teased back in 2008.
Enjoyed this article? Share it!