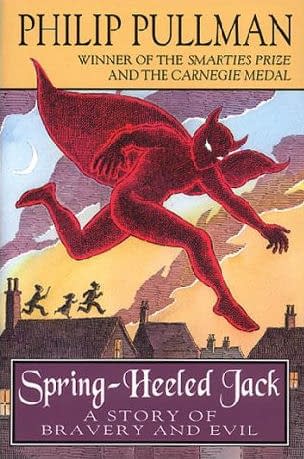 Here's a little tease, ahead of my full interview with Paul Dutton, the director of animation on the handsome Oscar nominated toon, The Illusionist.
As well as discussing the ins and outs of bringing The Illusionist to life, our conversation also turned to Dutton's next project. He's in the early stages of work on another hand-drawn, or as he'd say, "2D" animation. For this one he'll be serving as the project's director, bringing us an adaptation of Philip Pullman's book, Spring-Heeled Jack.
Here's what Mr. Dutton told me:
There are so many CG films being made and I do enjoy watching them, but for me, 2D is where it's at. I'm working with an author who feels the same way on an adaptation of a book, and hopefully we'll manage to make another traditional film again. I'm working with Phillip Pullman on making Spring-Heeled Jack into a movie. I might be heading out to Oxford in March or April to meet him. We've talked a little bit about 2D and 3D and he said he would insist on having the film made in 2D. He must be a bit of a throwback as well.

I've read almost everything Pullman has written and enjoyed it, and so has my family. Of course, the Golden Compass, Northern Lights, and those books are fantastic. He really evokes something that I would like to capture.

It's the plan that I direct this film. I'm developing it right now with a partner here in Calgary, Alberta and Mr. Pullman has given me the rights to shop the project around. He, of course, wanted to make sure his book will be respected properly. Selling 2D to distributors can be a real tough slog because nobody wants to bite, but I think the Oscar nomination we just received for The Illusionist is going to help an awful lot in that respect.
I'd buy my ticket now if I could.
Here's the copy that Philip Pullman has on his website in respect of this book:
This was originally a play I wrote for the school where I used to teach. Spring-Heeled Jack was a character from Victorian penny dreadfuls, a sort of early Batman, who dressed up as the Devil to scare evil-doers. When I was making it into a book, I thought it would be a good idea to have a sort of comic-strip look, with speech balloons and lots of action going on in the pictures, which were drawn by David Mostyn. Another thing I had fun with was the chapter-heading quotations. This is the first book in the world to feature a quotation from itself (Chapter 11).
An unorthodox but brilliant bit of salesmanship on Pullman's part there, I feel. That's much more enticing that almost any blurb or synopsis I've ever read on any author's website.
The book is, of course, available via Amazon in both the US
and the UK
.
My full interview with Paul Dutton is to follow. Watch this space.
Enjoyed this article? Share it!