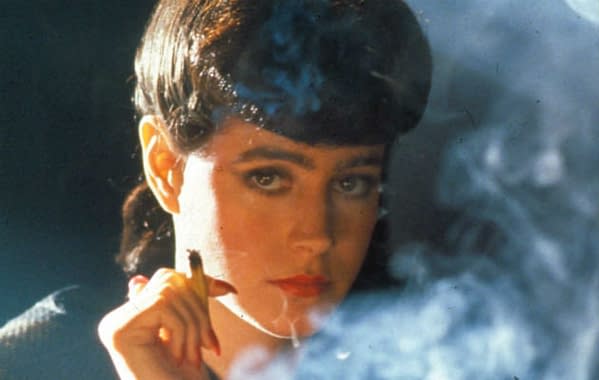 Sean Young has been speaking with various outlets this week to promote Jug Face, a new horror film that she stars in alongside Larry Fessenden, but she's not limited herself to just talking about that film.
Young is probably best known for her performance as Rachael, a replicant who believes herself to be human, in Ridley Scott's Blade Runner. In an interview at Entertainment Weekly Young was asked about the upcoming Blade Runner sequel and she didn't mince her words,
Mmm, let's see. Alcon –  they're the ones that own it and apparently they have Ridley to direct it — and when I met with them they didn't make any offer-plans to include me. And when I called Ridley Scott's office, he doesn't call me back. So I guess they're going to go, like, prequel or…I don't know what they're going to do. But my official opinion is that, if they don't include me in it, everybody should boycott it. Because it's stupid not to have me in it. It's really stupid. That's my opinion! I mean, you try to tell people something sensible in Hollywood and sometimes they just don't listen, you know. And they usually pay the price too, because everybody's an expert.
I can think of a lot of circumstances in which it wouldn't be stupid at all for Young to be excluded from the sequel. For instance, if her character isn't it. Or if the character is 'younger' in it.
If the character of Rachael is in the sequel Young may have some competition, as apparently Katy Perry wants to play the role too. Speaking to the Metro she said,
I am really interested in comedy, and I would really love to play Rachael in Blade Runner 2 if Ridley [Scott] would just call!
Yeah, I'm not sure I can see that happening either.
Young has also been speaking to Entertainment Tonight about Jug Face and when the subject of Blade Runner came up she took the opportunity to bad-mouth Charlize Theron and criticize Ridley Scott's decision not to include her in Prometheus.
I am going to say this on the record: Why in the hell does Ridley Scott have Charlize Theron in that part instead of me? … It's like she was bored out of her mind, you can see it, and it's like oh my god! That would have been really good for me, right? It would have been a nod to people who like Blade Runner, it would have been like, 'See, I'm using Sean again,' right? Nah.
I assume Scott picked Charlize Theron because she's a fine actress, an Oscar winning one to boot, and felt she was right for the role. I thought Theron did a good job in Prometheus too, especially considering how muddled her character motivations were in the script.
I'm one of those people that like Blade Runner but I don't really understand why I'd appreciate Scott using the same actress in an entirely different film. I'm not sure I really see that as an automatic positive.
I'd be very surprised if we see Sean Young in the upcoming Blade Runner sequel. At this point I'd be less surprised to see Katy Perry in it.
Ridley Scott's next film is The Counsellor, which will be released later this year. It's perhaps worth noting that Sean Young is not in it.
Enjoyed this article? Share it!