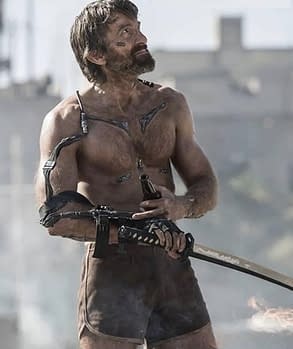 Sharlto Copley's character in Elysium is Kruger, a brutal mercenary, doing bad deeds for his government paymistress.
There's one shot of Kruger in particular that leapt out at me when I first saw the film – see the image on the left – so when I sat down with Copley for a chat, I asked him about it.
We talked about on specific, famous photograph and I've spent a long time looking for that image to share it with you but, so far, I've failed. Copley will tell you just what the photo contains, however.
BC: One scene that really says something powerful about Kruger in this film is when he's having a barbecue.
Sharlto Copley: I'm glad you noticed that one. That was the one that was really personal for Neill and I.
BC: So talk to me about that scene and what you think it tells us about Kruger.
SC: Well, the imagery is very much from that notorious military unit from South Africa in the late 70s, early 80s called the 32 Batallion. Of the guy with the beard and the PT shorts having a braai in the bush, basically. In Elysium it's obviously not the bush, but that was where we drew the look and the military aspect of the character from. So there's the idea of combining that with the tech on his body, and he's drinking Castle Beer. The quintessential, old school South African soldiering, both the best and worst of what that was.
Those guys were highly respected bush soldiers fighting against, at the time, the spread of communism in Africa. Even though it was apartheid, they were covertly supported by America because Russia was supporting other factions. It was an interesting war.
That scene has a whole bunch of South African references from real life going on there.
BC: And it's by no means the only thing in the film that's politically laced.
SC: Yeah.
BC: A lot of resonant images in this film.
SC: There is. To me, any good writing gives you some kind of world view or if it's a personal drama, some sort of insight into human relationships, into dynamics, some sort of truthful reflection of that. I wouldn't necessarily call Elysium political because that implies there's some sort of political message that you're supposed to take but there's a satirical view. Satirical comedy – is that political? To me, not really. It's an artistic look at issues. This is, again, Neill doing his satirical lensing rather than making some big statement. It's much more layered.
We then moved into spoiler territory, before the conversation came around to other questions of how people treat one another, and then some altogether different subjects… but more on those later.
Elysium is on release in the US now and opens across the UK tomorrow, Wednesday August 21st. I think it's tremendously good. Go and see it.
Enjoyed this article? Share it!