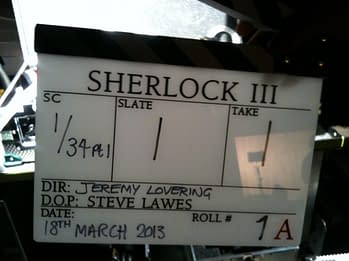 There's a little hubbub happening on Twitter and Tumblr right now. It all kicked off when fans stalking the sets of Sherlock, which is currently shooting its third series in London, saw a certain actor, in costume.
Now, I would argue that there's not really a spoiler here. What we actually appear to have learned is that the next episode is going to feature a flashback. The costume and hair, not to mention location, all tell us that today's filming is for new material but an old scene.
The actor in question is Andrew Scott, who plays James Moriarty in the show. He was seen dressed just as he was in the climactic scenes of the last series, and again at St. Bartholomew's hospital. This is very clearly shooting for the big explanation sequence, finally revealing how Sherlock faked his death.
So I would imagine there might be clues, right there on set, but that they'll be subtle. Far more subtle than the return of Scott, but not invisible.
Earlier in the week, producer Sue Vertue sent a message to the fansite Sherlockology, asking for fans to not be intrusive during filming, and to not post spoilers on the internet.
I'd argue that, so far at least, they're actually doing what she asked, maybe more through luck than judgment.
Enjoyed this article? Share it!