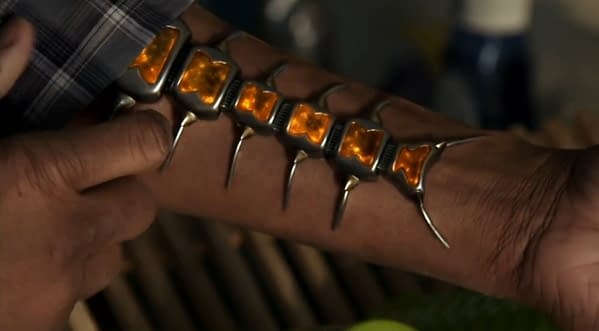 There's an as-yet unnamed character in the first episode of Marvel's Agents of SHIELD, and he's been subject to a lot of speculation. Most popular theory was that he's Luke Cage, but that was flat-out denied by the show's producer, Jeffrey Bell.
Anyway, that was before we saw the thing on the character's arm – see the image above. That really mixed the theories up.
What we do know is that the role went to J. August Richards, an alum of Angel. Once again, Joss Whedon has been working with an old friend. He sure likes to keep it in the family.
But it could have been another of his past collaborators – and one that really wouldn't have started any Luke Cage rumours.
I've heard from Little Bleeder Mike Verble who attended the Albuquerque Comic Expo yesterday and went to a panel with Buffy's Nicholas Brendon. Here's what Mike told me:
Nicholas Brendon told the audience at his panel that he and J. August were the final 2 people in line for the part that J. August eventually got in SHIELD. I'd heard that the character was Rage but it probably isn't if these were the two guys in the running for the part.

Someone in the audience suggested he call Joss and try to get the part of Henry Pym. Nicholas asked who that was and then said he'd make the call.
Well, I wouldn't hold my breath over the Pym casting, but this SHIELD business is certainly interesting.
We've been thinking the character has already appeared in the comics, particularly from how Jeffrey Bell almost slipped and named him. It's not a guarantee, but it does seem likely.
And this is why a lot of folk assumed the race of the character would be a clue to his identity. Would the character change colour on the way to the screen?
Well, maybe he did or maybe he didn't, but Nicholas Brendon seems to have been telling us it was at least under consideration.
Enjoyed this article? Share it!