 As previously announced, Shout! Factory will release Transformers: The Movie on DVD and Blu-ray in September. But the company has updated their release plans with a list of special features to be included on the two-disc set.
The marquee bonus feature is 'Till All Are One, a brand-new, comprehensive documentary looking back at film with cast and crew, including story consultant Flint Dille, cast members Gregg Berger, Neil Ross, Dan Gilvezan, singer/songwriter Stan Bush, composer Vince Dicola and others. It will also feature a commentary track with director Nelson Shin, Dille and Arcee voice actress Susan Blu. The set will also come with previously released featurettes, animated storyboards, trailers and TV spots.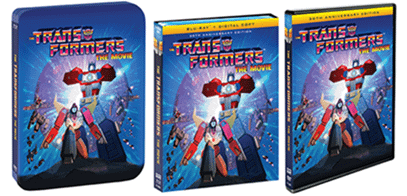 The release will also see a special limited edition steelbook package for those who go the extra mile on their collectible disks. Both the limited edition and regular anniversary editions are available for pre-order on Amazon and select retail stores and will see release on September 13th in the US and December 12th in the UK.
Enjoyed this article? Share it!