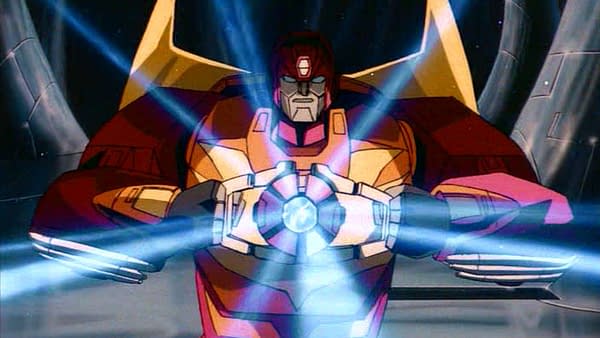 Shout! Factory announced today that it will re-release 1986's Transformers: The Movie on home video in September.
Set in the far away year of 2005, the film featured the voices of Leonard Nimoy, Frank Welker, Peter Cullen, Judd Nelson and Orson Welles in one of the more ambitious animated films tied to a toyline at the time. With a complete new range of robot toys on the way, the film cleared the decks of characters like Ironhide, Shrapnel, Wheeljack and the leaders of both Transformer factions, Optimus Prime and Megatron. Granted, the latter was altered into Galvatron and the former came back from silicon death a year later. But the events of the film had a deep impact on the Transformers' young fans and no doubt helped create the permanent bond some have with the concept to this day.
And for others, it created an abiding fascination with Orson Welles.
Shout! plans to re-release the film on DVD and Blu-ray on September 13th in a new 30th anniversary edition. The film will be remastered from the original 35mm elements with new bonus content currently in development.
For those who have not seen the film in a long time, it will be a treat. I happened to see it last year at the Egyptian Theater in Hollywood and it held up remarkable well. The animation is surprisingly well-crafted, but the storyline and achingly 80s soundtrack make it a quality bit of nostalgic fun.
Enjoyed this article? Share it!